The new 12 matte lipsticks from Bourjois and my first VoxBox
These past two weeks I've been testing out the new collection of matte lipsticks by Bourjous*, featuring 12 highly pigmented creamy lipsticks these have quickly captured my attention and stolen my heart. The Rouge Velvet liquid lipsticks have been around for a while with rave reviews, but does the new lipstick tube version steal the show?

First a bit about Influenster
Influenster is a company that brings brands and bloggers together to test and review products. They have been in the United States for a while now but have only recently come to the U.K as soon as I caught whiff that as I able to join I jumped to it. I highly recommend downloading the app if you are interested in joining Influenster, you will have to complete a variety of surveys called Snaps and link all your social media accounts to receive an impact score. Doing all of this will improve your chances to be selected for future Voxbox's.
Before a box is sent out you will be sent an email saying you have been shortlisted and you will have to fill in another form including your postal address before being official entered into the draw. Receiving this preliminary survey doesn't guarantee you will receive the products. I submitted a few before being selected to receive the Bourjois box. You will receive a second email to confirm you are receiving the box and you will also be able to see the campaign button on your influenster page.
Don't worry if you see others posting about their boxes before you have received yours, the campaign timer starts when you check in your box and mine took over a week to arrive, it is on its way and you will not be penalised for receiving it later than others.
Once you receive your boxes you will need to check it in using your phones camera and scanning the QR code on the front of the box. You can then participate in a selection of criteria to unlock the campaign badge. I was given a one month period to complete this so don't panic you will have time to do everything,
I hope this helps if you are curious about Influentster.
Now for the Lipsticks
These lipsticks have really blown me away. The tear-drop shape makes them precise and easy to apply. They are very creamy and glide onto the lips without skipping or tugging on the skin, I would recommend using a lip liner for the deeper shades as they are liable for smudging outside the lip-line.
These do stain the lips so the wear time is good but as will most traditional lipsticks they do transfer onto glasses and wear off when eating so they aren't not budge proof like a liquid lipstick formula. However they are more comfortable to wear and less drying because of it.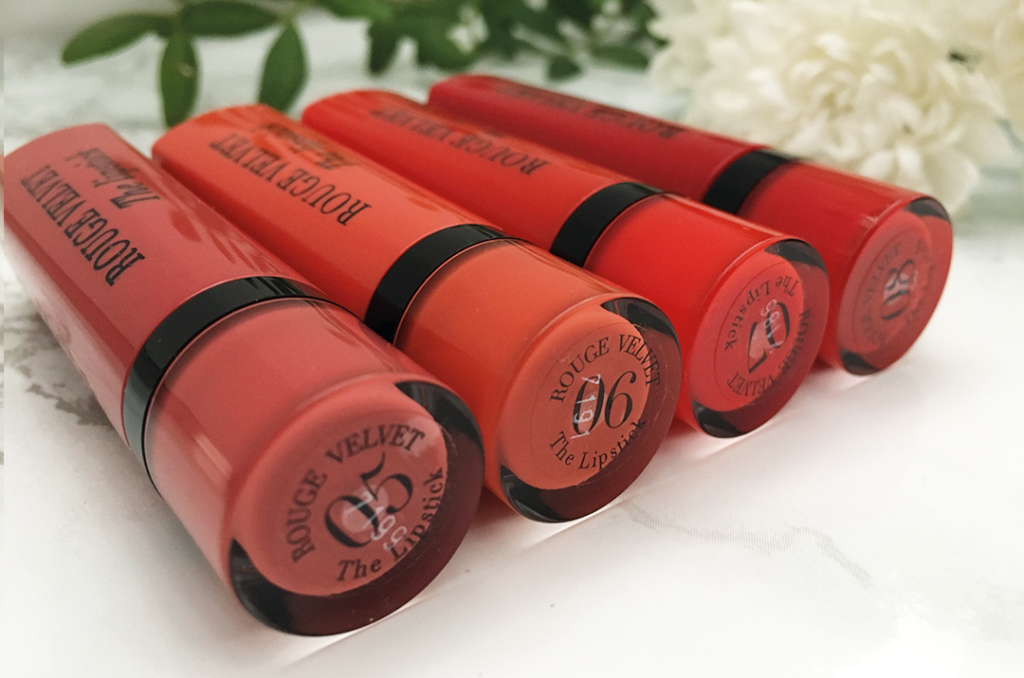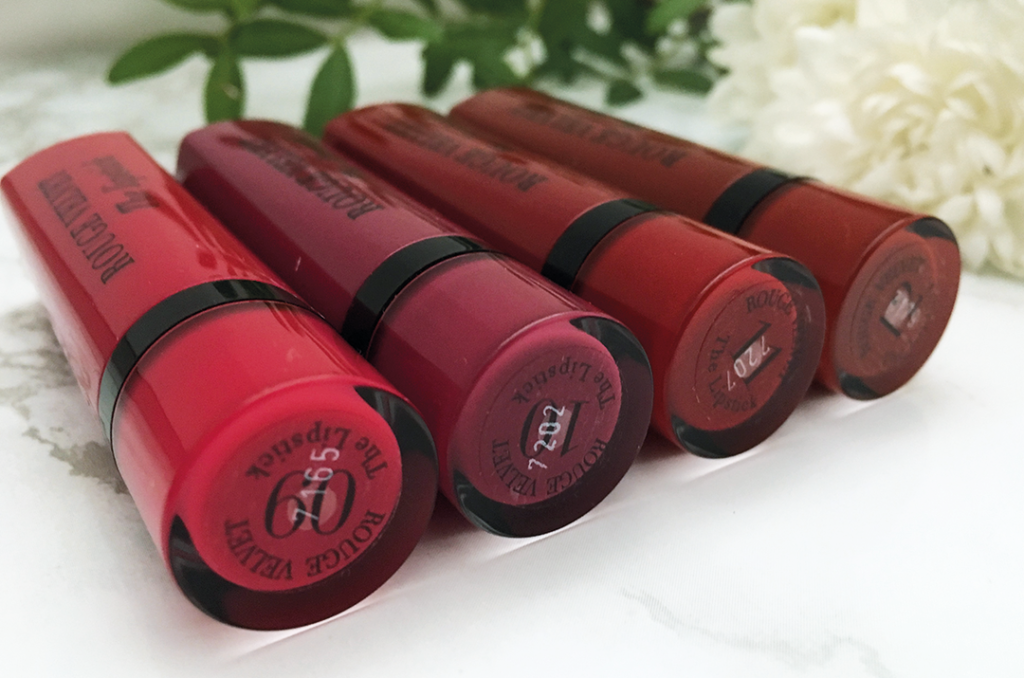 I really love the packaging, the thick plastic is really nice quality and it has a strong clasp that ensures the cap won't come off. As it is colour coded its really easy to see the shade you are after without having to wind up every lipstick to check. They are numbered 1 -12 which is really satisfying to me and makes it a doddle to organise.
The shades are:
01 – Hey Nude!
02 – Flaming' Rose
03 –  Hyppink Chic
04 – Hip Hip Pink
05 – Brique-A-Brac
06 – Abrico' Dabra!
07 – Joli Carmin' Ois
08 – Rubi's Cute
09 – Fuchsia Botte
10 – Magni-Fig
11 – Berry Formidable
12 – Brunette

Shade from left to right: 01 – Hey Nude!, 02 – Flaming' Rose, 03 –  Hyppink Chic, 04 – Hip Hip Pink.

Shade from left to right: 05 – Brique-A-Brac, 06 – Abrico' Dabra!, 07 – Joli Carmin' Ois, 08 – Rubi's Cute.

Shade from left to right: 09 – Fuchsia Botte,  10 – Magni-Fig, 11 – Berry Formidable, 12 – Brunette.
The deeper shades are really the stand out for me in this collection, they are perfect for this time of year as we transition to Autumn. These bold berry shades are universally flattering and eye-catching and my personal favourites from the collection. I think shades 1 & 2 have the potential to wash out my complexion as they have a strong white base to them, but I really need to trial them more to be sure.
I find you can feel these on the lips as they are slightly thicker in formula but they do dry down and as they are so pigmented you don't have to apply a lot of layers for them to be fully opaque. They do dry to the matte finish they promised and although I don't find them to be very drying a balm underneath goes a long way.
These are beautiful lipsticks you won't be disappointed. I think the price tag of £8.99 is really reasonable for the high quality they are. Which is your favourite shade?
*These lipsticks were sent to me complimentary from Influenster for testing and review purposes. All opinions are my own.