Beauty Products I've used up
As my empties basket was over following I felt it was time I shared with you my thoughts on this selection of beauty products featuring some hair, skin and body goodies and most importantly whether or not I would repurchase.
Pixi Skintreats – Glow Tonic Exfoliating Toner 250ml
'5% Glycolic Aloe Vera & Ginseng'
This is not my first Glow Tonic to use up and it won't be my last. I use this after my cleanser in the morning to give my skin a boost. As I have dry skin it can also be dull, so I find this really brightens my complexion and the 5% glycolic acid helps the product to penetrate the skin for a better effect. You can use this twice a day but personally I find that my skin responds better when I only use this in the morning. Gentle enough on my sensitive skin, this is a product always in my routine. Glow Tonic has a cult following and I'm all for it.
Benefits: Hypoallergenic and alcohol free
Verdict: Have repurchased.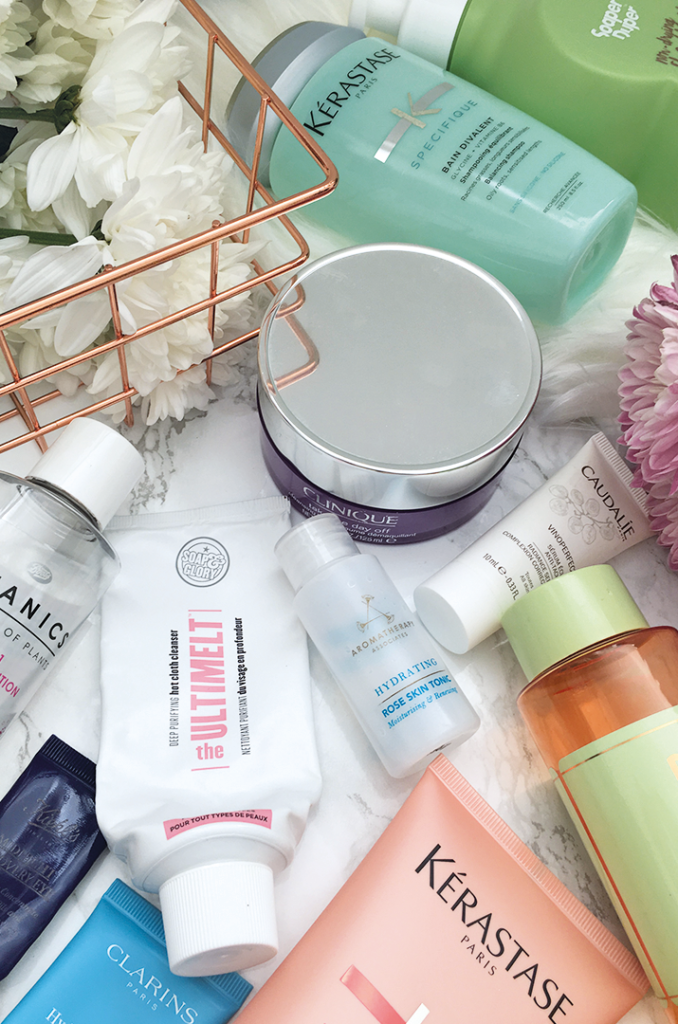 Botanics – Micellar 3 in 1 Cleansing Solution 250ml
'Dissolves makeup, unclogs pores and removes impurities in one easy step'
Botanics have recently rebranded and I'm must admit they have caught my attention because of it. However this was one of those products I was glad I had finished, compared to my beloved Garnier micellar water this just didn't do it for me. I really had to scrub at my skin to remove makeup and although I don't normally take makeup off with miceller water I like to have it on hand to remove stubborn makeup, or swatches. This wasn't bad but it did slightly aggravate my skin when I used it, not burning per say but irritated. It's an affordable product but so is the Garnier version and for that reason I don't think it will be making its way back to my skincare shelf any time soon.
Verdict: Won't repurchased.
Kerastase  – Discipline Fondant Fluidealiste 200ml
'Smooth-in-motion care for all unruly hair'
I picked up this conditioner as I just wasn't finding anything at a lower price point that my hair was responding too, I felt like I was in a bit of a hair rut and decided to splurge on some Kerastase which has always received such great reviews. In short I loved this conditioner, a small amount went a long way and it made my hair noticeably smoother, shinier and softer.
This is the first Kerastase conditioner I've tried and I'm eager to try others from the range. It has a scent I can only describe as luxurious and not that it makes any difference to the product but you can't beat some copper detailing on the packaging.
Verdict: Would repurchase.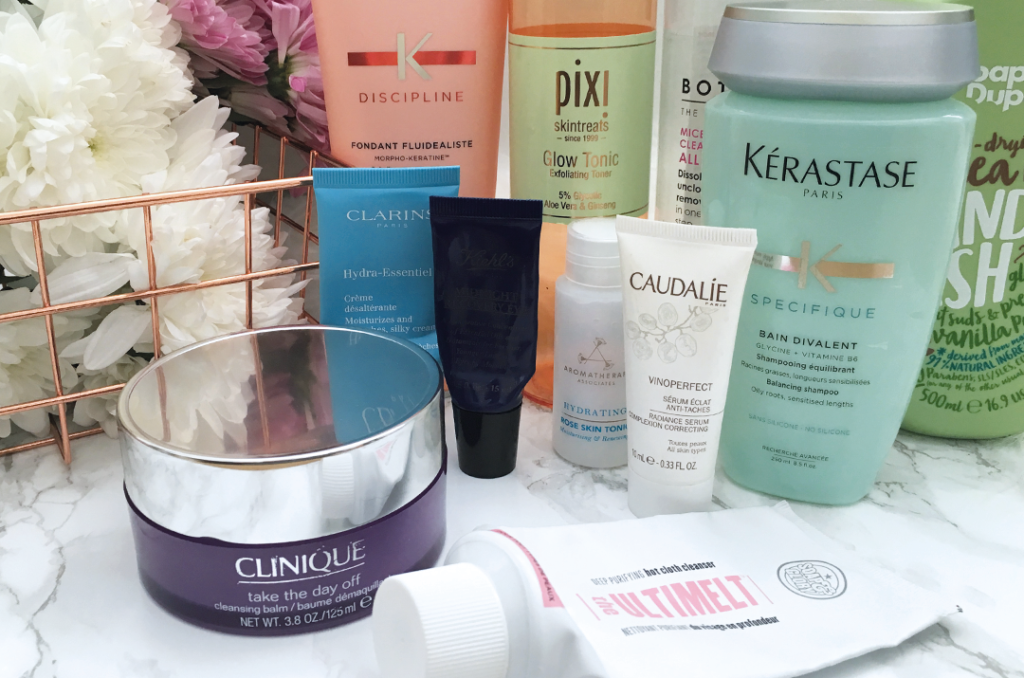 Kerastase  – Specifique Bain Divalent 250ml
'Balancing Shampoo, oily roots, sensitised lengths'
At the same time of picking up the conditioner, I brought this shampoo as well, I was a bit torn on which would be best for my hair, I was drawn to the idea of the balancing shampoo as my hair gets oily very quickly but my ends are dry from heat damage. This shampoo left a film on my hair that I just couldn't seem to wash out although to look at it my hair looked clean and fresh. It did tame my hair and give it some much needed life but I'm torn on whether it's the best for my hair type. I would definitely try Kerastase shampoos again as I think they are worth the splurge but I want to try a shampoo from one of their other ranges.
Benefits: Silicone free
Verdict: Would repurchase Kerastase shampoo but not this one.
Clinique – Take off the day Cleansing Balm 125ml
'For all skintypes'
My holy grail makeup remover, I've repurachsed this more times than I can count. It's one of those products that's blows everything else out of the water. I once went to a Clinique counter and asked for it and the sales lady didn't know what I was talking about… you can only imagine my shock, how can you work for Clinique and not know about this tub of pure magic!
This is a gentle balm that removes every scrap of makeup quickly and leaves your skin feeling clean but not stripped or tight. You don't have to scrub at your skin or eyes it just melts it away in under a minute. Often I found with other makeup removes, makeup was still on my skin after and I had to do a second round to remove it properly, but that never happens with take off the day, it does what it says on the tin. It never stings my eyes or irritates my skin. I can't live without it.
Benefits: Allergy tested. 100% Fragrance Free
Verdict: Have repurchased.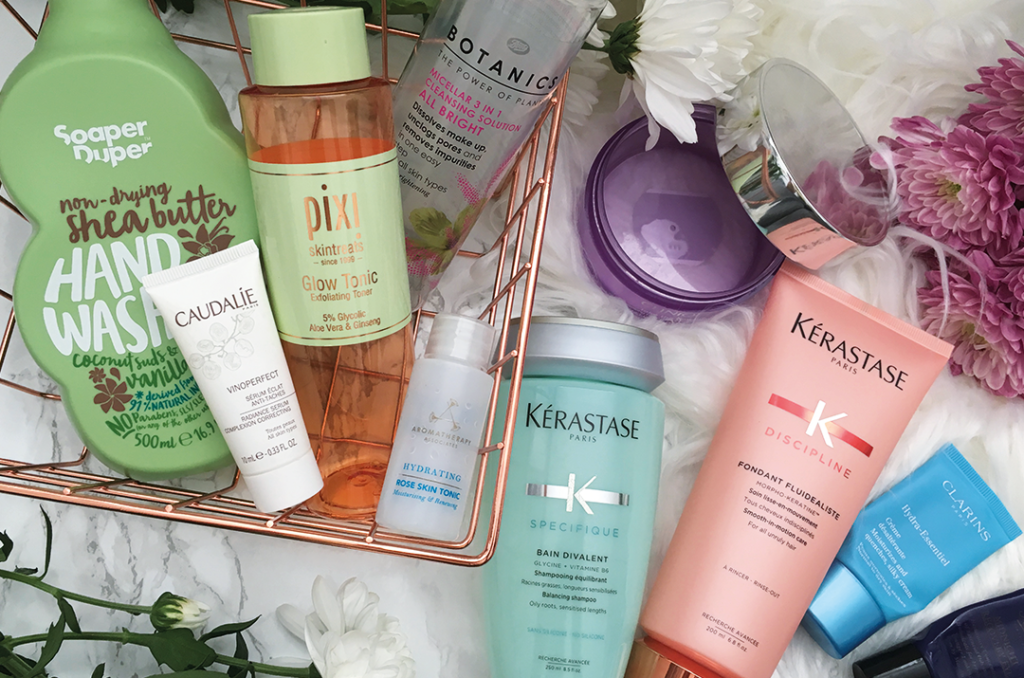 Soaper Duper – Shea Butter Hand Wash 500ml
'With glycerine, coconut suds & pressed Vanilla pods'
This has a strong scent that is reminiscent of vanilla ice-cream, I personally love sweet scents but I know they aren't for everyone, however first thing in the morning this can be a bit sickly but most of the time the aroma was totally divine. This lasted me a really long time and never left my hands feeling dry despite the fact I wash my hands constantly. It's a strange thing to fall in love with but I really enjoyed using this hand wash and would certainly repurchase it for how long it lasts, it an absolute bargain too.
Benefits: 91% natural ingredients, Paraben free.
Verdict: Would repurchase
Soap & Glory – The Ultimelt Hot Cloth Cleanser 100ml
'Contains essential oils, for all skintypes.'
This is the first skincare product I've tried by Soap & Glory and I was not disappointed, as their name sake its body products I was slightly sceptical when they brought out some skincare items too but I wanted to give it a road test for myself and I'm glad I did. This is one of the best cleansers I've tried at this price point, as I tend to be a bit of a cleanser snob it's not easy to win me over but this certainly did enough for it to find its way into my basket once more. The scent is subtle which I always appreciate in skincare and this thick cream does a great job of making my skin feel clean and fresh without drying it out or aggravating it. If you are looking for a budget friendly cleanser I highly recommend giving this one a try.
Verdict: Have repurchased.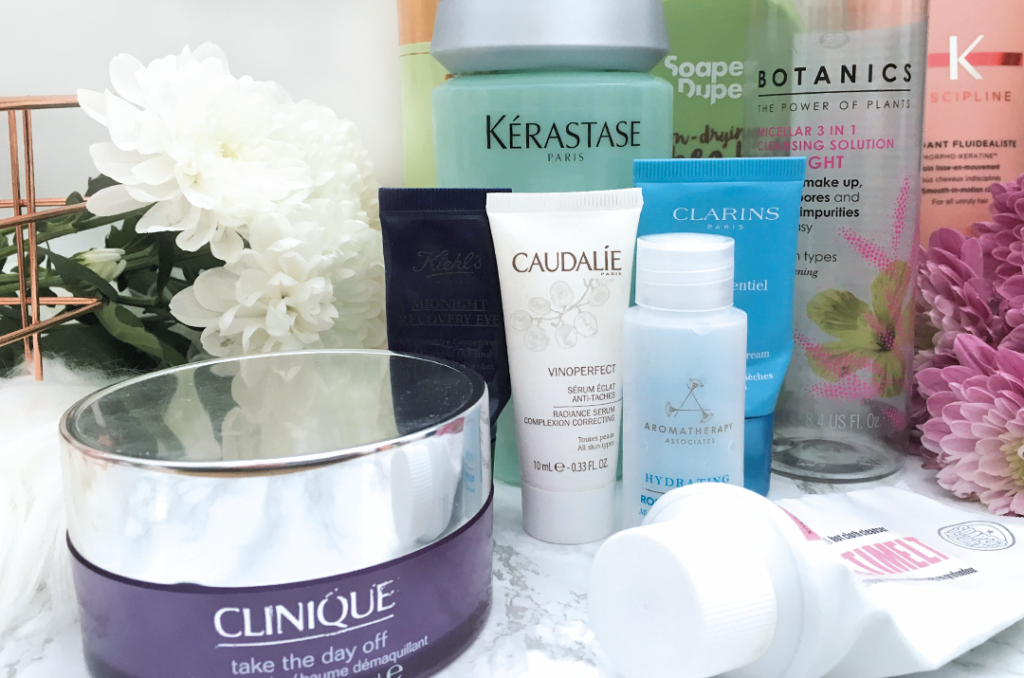 Kiehl's – Midnight Recovery eye 15ml
'Fresher, Younger Looking Eyes by Morning.'
I really love this eye-cream, it makes a visual difference to the darkness under my eyes over time. I only use this at night but I think its fine for day use as well if you wanted too. It's not the most hydrating eye-cream which is why I like to use something different in the morning so I get the best of both worlds, however it really does make a difference to under eyes. Midnight Recovery has left my under eyes looking generally brighter and smoother, I adore it.
Benefits: Paraben-free, fragrance-free, mineral oil-free.
Verdict: Have repurchased.
Aromatherapy Associates – Hydrating Rose Skin Tonic 30ml (sample)
'Moisturing & Renewing'
I really loved this more than I expected too as I'm not typically a fan of rose scents. However this is a subtle fresh rose and the tonic itself left my skin feeling noticeably soft after use. I used this straight after my cleanser for the toner stage and I was so delighted with the results. I hadn't heard anything about this product before I tried it but I have been a fan of Aromatherapy Associates bath oils so I'm pleased to say this did not disappoint. Gentle on my skin, this was a real winner for me.
Verdict: Would purchase.
Clarins  – Hydra-Essentiel 15ml (sample)
'Moisturizes and quenches, silky cream' for Normal to dry skin
This was only a sample size but it lasted me a decent amount of time, so I did feel like I had a proper chance to form an opinion on it. The Hydra-essential is such a rich, hydrating moisturiser. My very dry skin soaked it up without feeling greasy or heavy. It has a delightful fresh scent and a little went a long way. I found my skin felt bouncer and properly hydrated.
Verdict: Would purchase.
Caudalie  – Vinoperfect Radiance Serum 10ml (sample)
'For all skin types'
This is usually in a glass bottle with a dropper but as it was a sample size it came in a tube format. It's a very thin serum that you have to work quickly with. I felt like my skin was brighter after a few weeks of use but it wasn't an immediate effect. The serum quickly absorbs into the skin and doesn't feel tacky or greasy afterwards. I'm a big fan of Caudalie products but I think I would want to try this product for a bit longer to make a proper assessment.
Bonus: no Parabens or Phtalates.
Verdict: Would purchase.
My empties basket is already filling up again, so I'm sure I will be posting so more empties in the near future, what have you used up recently?