Trying out a few products from the Coco Loco Hair care Range
I don't have much experience with hair care, in fact I'm a bit of a novice, but I was drawn in by the pastel pink packaging of the Lee Stafford Coco Loco range and after using these products for a few weeks I'm ready to share my thoughts. My hair is quite unruly and I'm always looking for products that will tame it. There are nine products total in the Coco Loco line and I picked up three to try out.
Before using any of these products I part blow dry my hair. I have fine hair but an awful lot of it and it takes a very long time to dry, as a result I find doing it in two stages works best and using products in-between. I don't like to towel dry my hair as I find it causes breakages so I just squeeze as much water from my hair as I can before wrapping it in a towel. Then on a medium heat I dry it until it feels damp and brush it through with my wet brush before applying any product.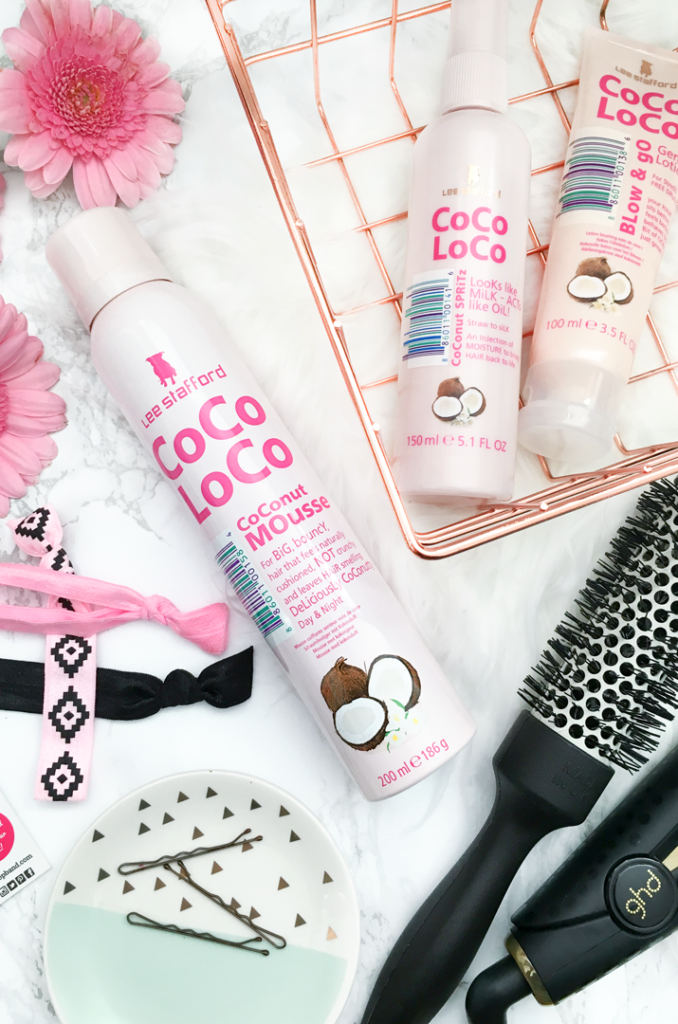 Lee Stafford Coco Loco Blow and Go Genius Lotion | £6.99
The Blow & Go is definitely my favourite product out of the collection as I saw the biggest difference in the manageability and smoothness of my hair. I use a brazil nut sized amount on damp hair and rub the product through the mid lengths and ends before blow drying. My hair looks straighter and smoother with less fly always, combined with the coconut spritz for add softness my hair looks as if it's been straightened and is soft and shiny. As my hair normally dry's wavy to get this kind of straightening effect with only one product is amazing to me. It's the product from the line that has impressed me the most and something I can see myself repurchasing.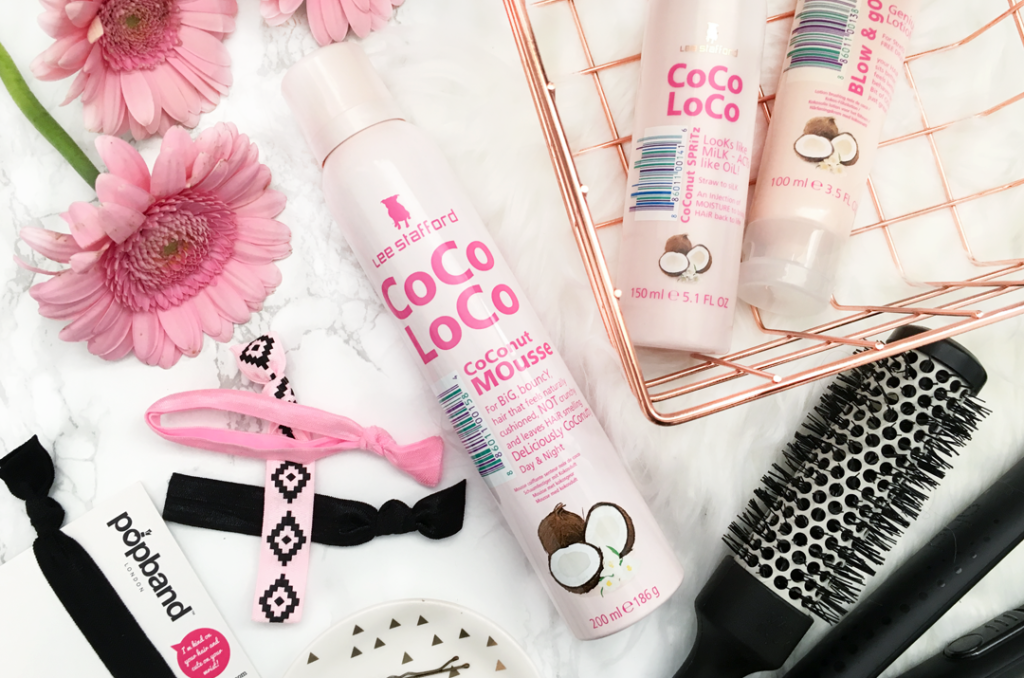 Lee Stafford Coco Loco Coconut Mousse | £5.99
The Coconut Mousse really needs to be shaken up despite it not directly telling you too otherwise it can be a bit of a dribby mess. The foam grows in your hand after a few seconds and you ideally are looking for a medium handful, too much and it can leave your hair feeling like it has a film on it and create the opposite effect to the volume you are after. Working the foam mainly into the scalp and then massaging the roots of your hair with your fingers whilst blow drying creates a decent lift and a voluminous effect that lasts till you next wash.
I have been enjoying using this mouse but I think it takes some mastering to get the effect you are after. I have naturally very flat hair at the roots and this definitely creates a lift without weighing it down or making it feel unclean.
It may not give you volume to rival Dolly Parton but its certainly worth working into your rotation if you have fine hair that can look flat after washing.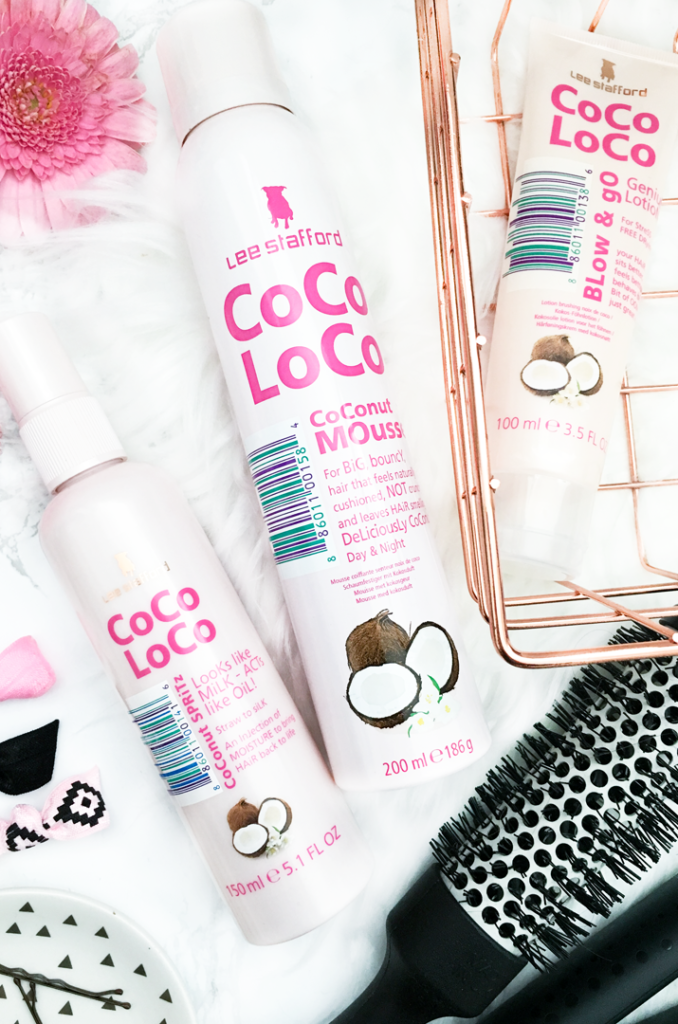 Lee Stafford Coco Loco Coconut Spritz | £5.99
The Coconut Spritz was the first product that drew me in as I love coconut scents and hoped it would make a nice finishing spray. To use I flip my hair over to avoid the roots and spritz generously around the lengths of my hair and brush through before blow drying. I found this made my hair look slightly shiner and felt a bit softer, the effects weren't drastic but certainly noticeable and as it doesn't weigh my hair down I find it can be added to my hair routine without overdoing it. I think it makes a nice finishing product to give your hair a little extra something but isn't a showstopper in the same way that the Blow & Go is.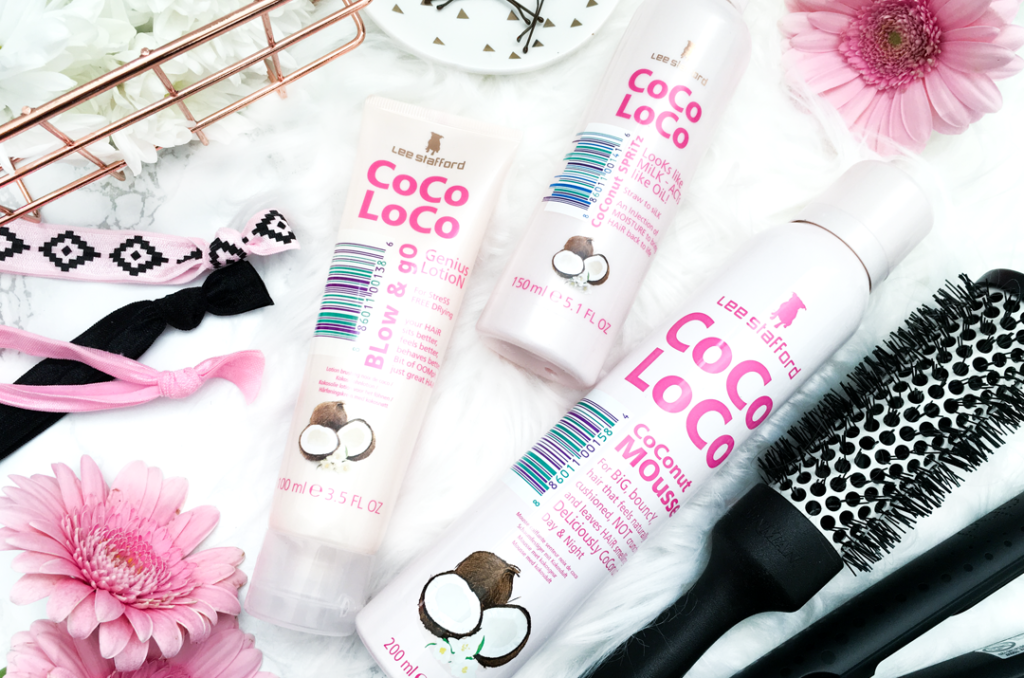 I have really been enjoying using this line and trying out new products, they are all reasonably priced and the entire range includes a plethora of styling products in the Coco Loco range. If you were looking to try one, my vote would be the Blow & Go. I have quickly become a big fan of it and it isn't a time consuming or difficult product to work with. Have you tried anything from the Coco Loco range?