Honey and Matcha Face Masks Review
Face masks are one of my favourite skincare products to get an instant glow and clear bright looking skin, in just ten minutes my skin looks renewed. The Body Shop masks caught my attention straight away when they were released. After using them for a while I wanted to share with you my thoughts on the two masks I own.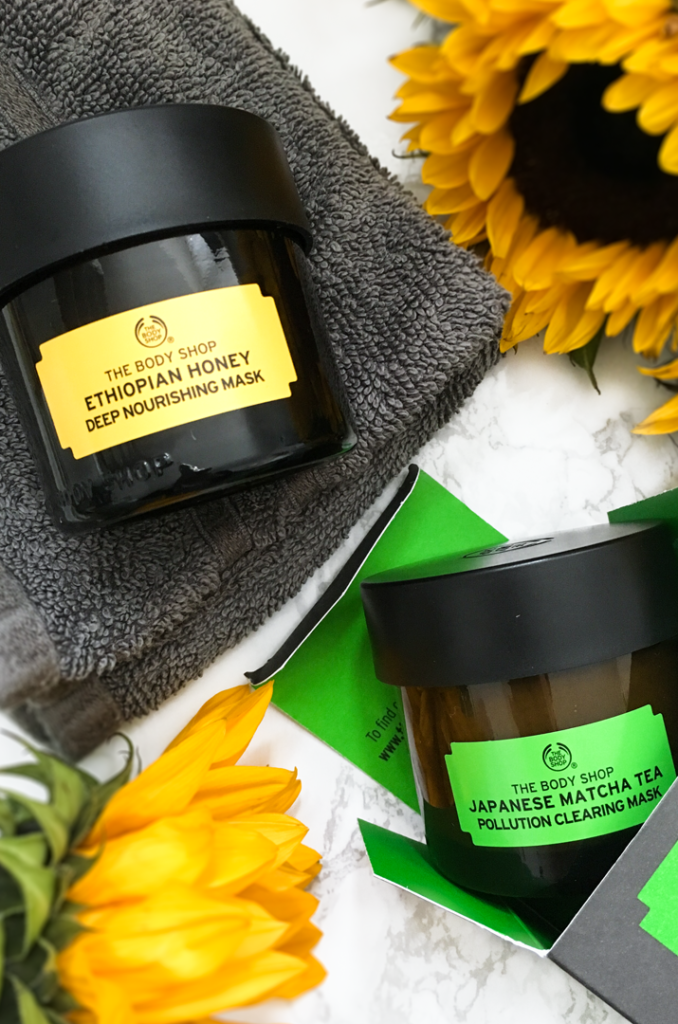 I remember when the initial collection of five masks were released from The Body Shop, there was a big emphasis on multi-masking and tackling skincare concerns by targeting different areas of the skin with various masks to achieve flawless skin.
I was really intrigued and excited by the original launch as The Body Shop has some fantastic products and what they really exceed at, is products that are ingredient/scent focused making it really easy to find your preference and become familiar with the beneficial properties of each ingredient.
The packaging is consistent across all The Body Shop masks, with the label colour and name being the only varying difference between them. I absolutely love the packaging it has a weighty glass jar with a thick plastic lid. It looks high end and gives off an apothecary feel, although the packaging has no bearing on the product I love the style and the quality it feels more premium then some of their other products.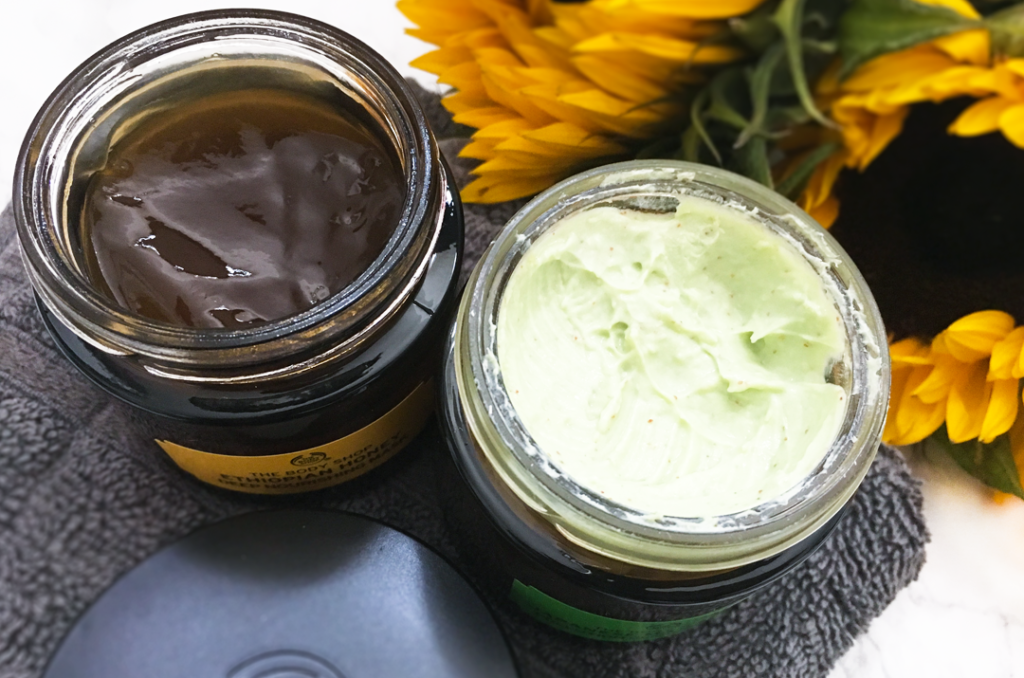 The Body Shop Ethiopian Honey Deep Nourishing Mask | £17
At the time of the original launch I picked up the Honey Mask. This mask is a must for those with dry skin or for the cooler months when everyone's skin is more dehydrated from indoor heating and the cold. This has a divine honey scent and the consistency is very similar to that of real honey too. Once applied to my skin, it feels cool and comfortable and after removing I find my skin feels more elastic and deeply hydrated. Your still need to apply either a moisturiser or facial oil afterwards, but my skin has so much more bounce when I use this.
This mask is an absolute must for me when my skin feels dry and tight as it offers instant relief. It's 100% vegetarian and contains community trade oils so you are paying for great quality. A little goes a long way so you only need to apply a light layer to reap the benefits. I really can't fault this mask and its something I can envisage myself repurchasing.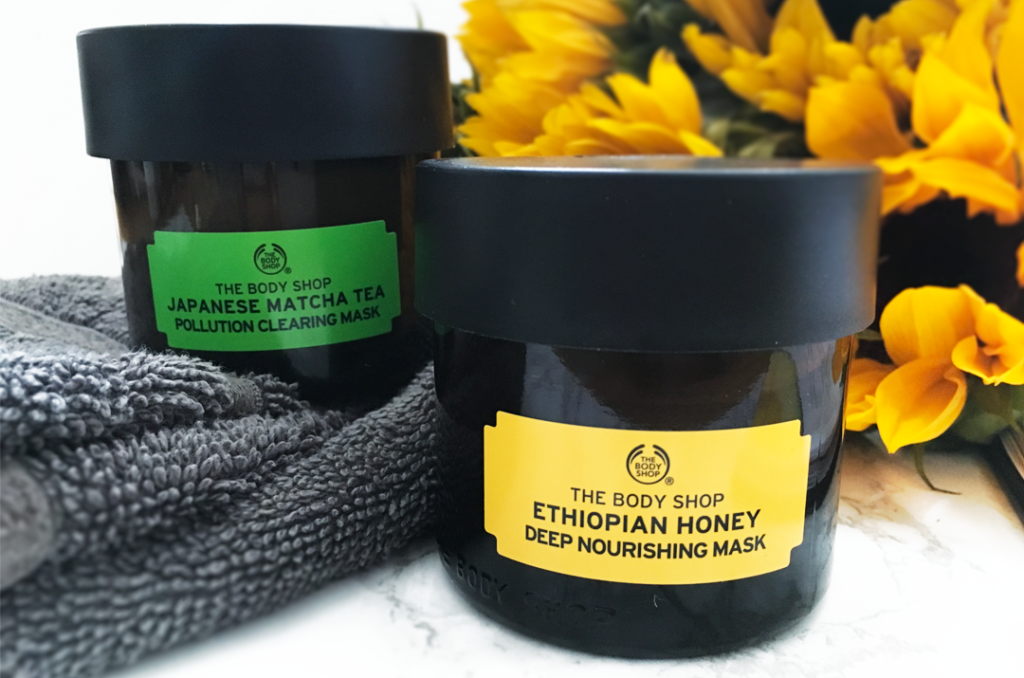 The Body Shop Japanese Matcha Tea Pollution Clearing Mask | £17
The Matcha Mask is newer to me, and was kindly sent to me by The Body Shop as part of their #daretomask campaign, where I posted my face mask selfie to Instagram, you can check out that post here if you missed it. This mask is a much thicker constancy then then honey and feels tingly and cool once applied. When I first used this, I was stunned at how bright and clear my skin looked, it was as though I had been lit from within. This mask is more intense and great for a real skin clear out. Enriched with Japanese matcha which is known for its antioxidant properties and Mexican Aloe Vera, you can really feel the pollution leaving your skin when removed.
I find that this mask doesn't really give you that tight feeling as it dry's like a clay mask does, its stays wet but over the 10 minute period and I notice that it almost balls up on the skin as though that's the toxins it's pulling out. Unlike the honey mask this one is 100% vegan and again just superb quality that makes your skin feel amazing.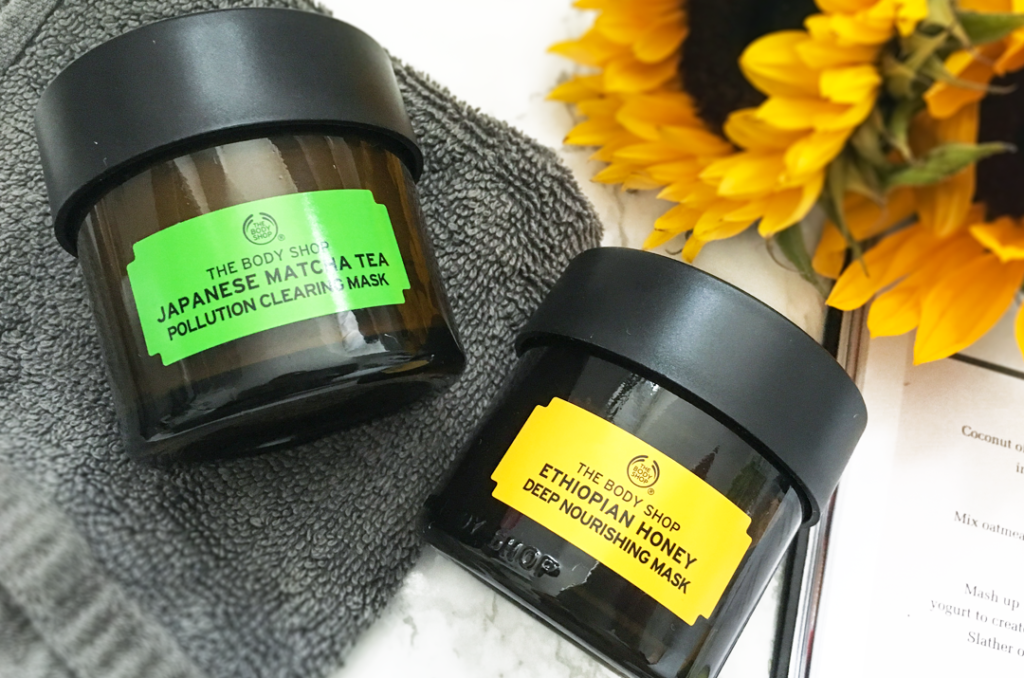 I really recommend giving these masks a try, I myself am egger to test out the Himalayan Charcoal Purifying Glow Mask next as although I have dry skin I love how fresh and clear clay masks make it feel. If your skin is in need of a pick-me-up or you're struggling with a certain skincare concern I think The Body Shop has brought out a fantastic range of masks at a reasonable price point. Which is your favourite?