Hotel Chocolat Tasting Club.
We all know and love a good beauty subscription but sometimes its nice to spoil yourself with something else. One of my favourite ways to treat myself is with food and Hotel Chocolat is my absolute favourite chocolate brand.  Before I tucked into this box I snapped some pics of it so I could share it with you.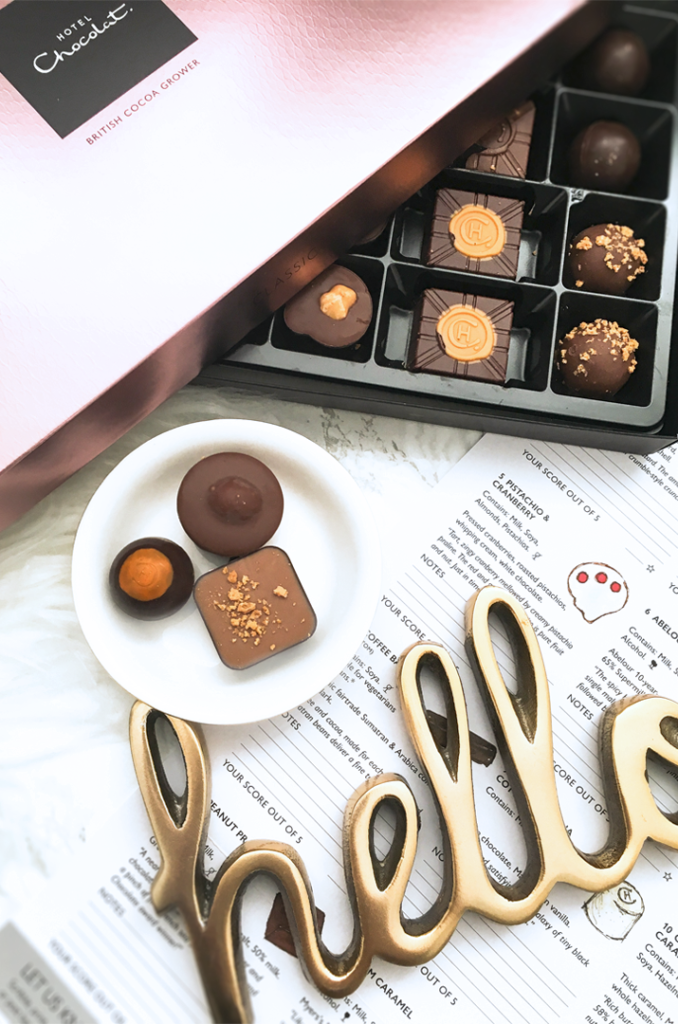 This isn't my first box in fact it's probably around my fifth, I don't know why I didn't think of sharing it with you sooner. My boyfriend first brought this for me as a gift and I fell so in love with the idea, its become a bit of a reoccurring thing. I don't get a box every month but you can and each month it contains new delights.
We all need to treat ourselves, if it brings you joy then it's worth the price tag. There is absolutely nothing wrong with other chocolate brands, it really comes down to what you find value in and what you like. I feel the taste, texture and uniqueness of Hotel Chocolat's chocolates makes it so worth the price tag, once you try it you will be hooked I guarantee it. I can't walk past a store without going in and picking up some of their selectors packs. As I don't live very close to a store having them delivered to my door is the perfect solution.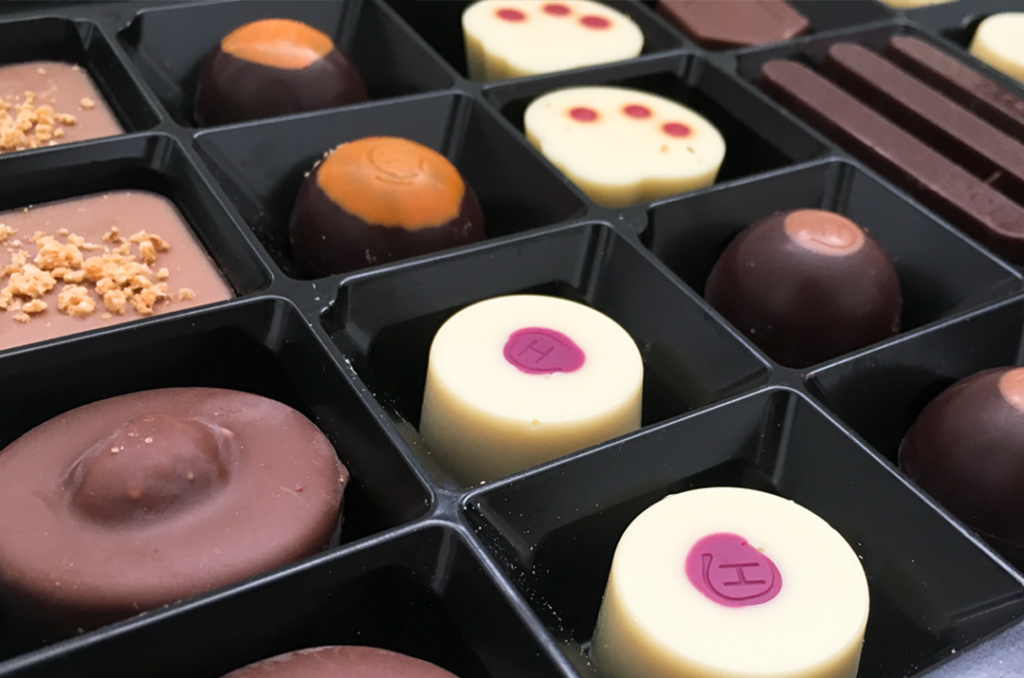 The tasting box is available in 5 different kinds, Classic (the one I get) High Cocoa, Mellow, Fortified and Rare & Vintage. Classic is great if you want to try a little bit of everything but the other boxes offer more specific tastes if you are more partial to one kind over another. The box is £22.95 a month which I know it seems a bit indulgent to spend so much on chocolate but when you break it down, each chocolate is around 71p each.
You get a tasting sheet that includes a description of each chocolate and you can give it a rating if you wish to share with Hotel Chocolat. The highest rated can become part of their range so if you love it, rate it!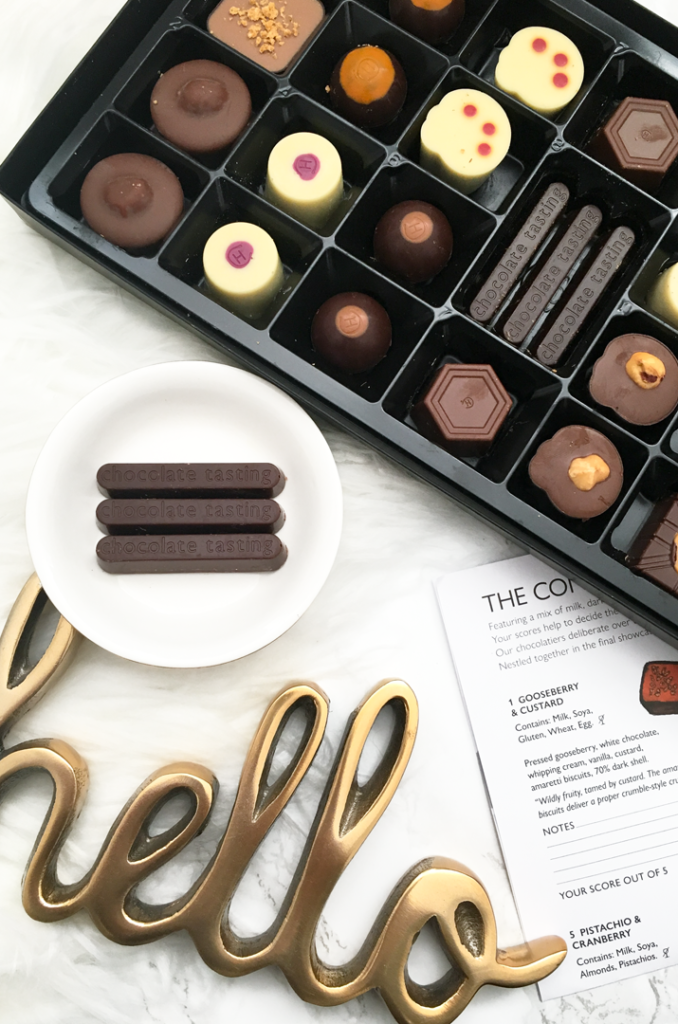 You get two of each flavour and three of each of the batons (solid chocolate sticks) there is a range of fruit, nut, dark, truffle, alcoholic, you name it there is a chocolate for it. The boxes always have a real range of everything so you get a great variety and it really inspires you to try new things, every month brings new and interesting flavours and taste combinations.
To make it go that extra mile my boyfriend and I normally limit ourselves to one per sitting, but honestly that normally satisfy my sweet tooth enough. I find if I eat too much chocolate my skin breaks out so this is a great way to have something sweet but not overdo it.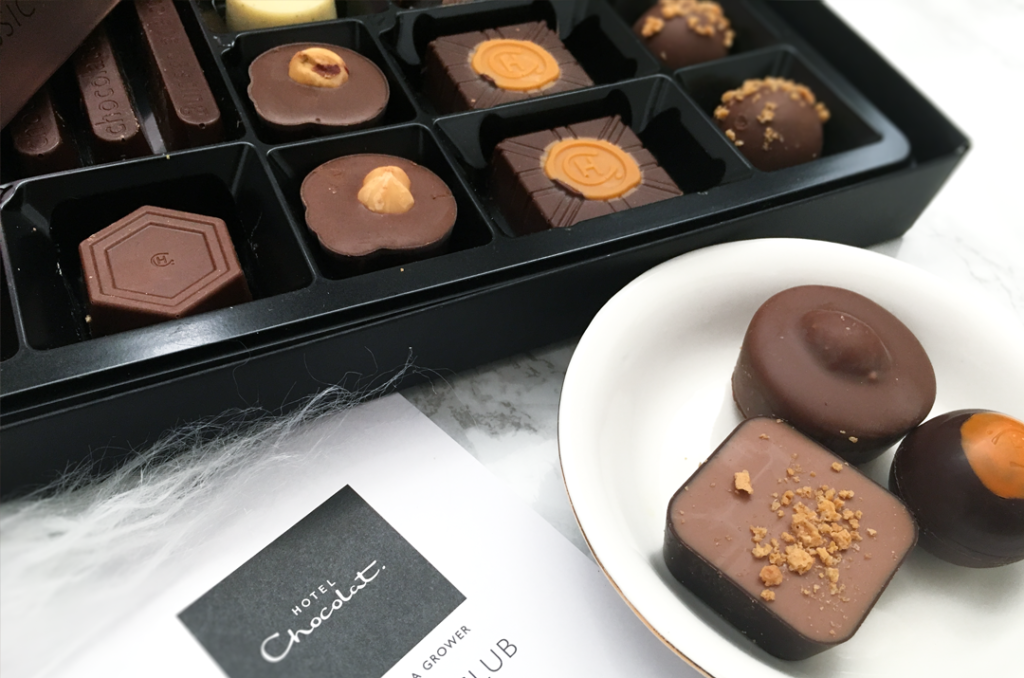 Each chocolate is absolutely packed with delicious flavours and is never just one dimensional, I normally don't enjoy alcoholic chocolates for example as I find they just overpower the chocolate flavour but the Amaretto (far bottom right of the box with the sprinkles on top)  included in this month's box had a divine almond taste that really rounded out the warmth of the amaretto. It's a chocolate I would have never considered, but now I want more.
Normally my favourite kind of chocolates are praline, white and anything with hazelnuts but what always blows me away is the fruitier offerings from Hotel Chocolat. Their fruit flavours are out of this world and never that horrible gooey stuff that you leave behind from the Quality Street tub.  The blackberry cup (second from the left with purple dot) and the Pistachio & cranberry (top third from the left with the three dots) where my favourites from the box. They had the perfect amount of sourness balanced with the sweetness of the white chocolate and layered with a subtle creaminess. I'm still thinking about them.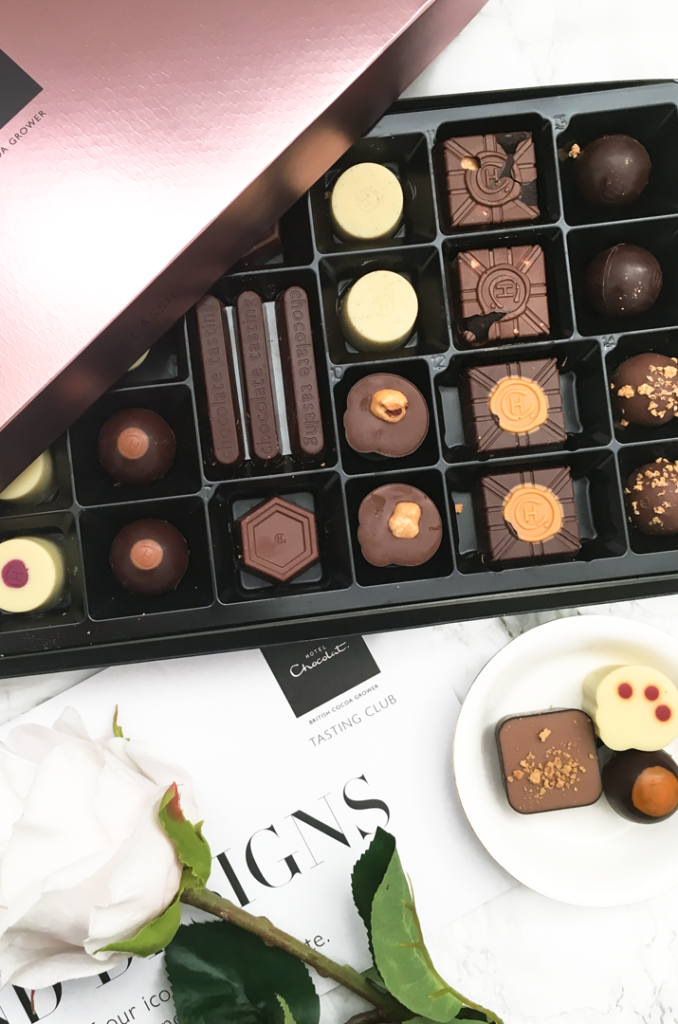 If I had to pick a least favourite it would be the classic caramel (hexagon chocolates either side of the batons in the middle) , I'm just not really a fan of soft caramel centres but It certainly wasn't bad either. Normally I find there one flavour I don't love in the box but that is hardly bad going, It's never because of quality, just personal taste.
I know this service won't be for everyone but If you are a bit of a chocolate fanatic I think It's such a perfect treat for yourself or an amazing gift for someone. Each chocolate is really one to savour and I always look forward to picking one out to share at the end of the day. Would you subscribe to a chocolate tasting box?