A party ready makeup voxbox and exciting new lip launch from Bourjois
Bourjois and Infulsenter are getting me ready for the party season with an exciting new lip launch and a few familiar favourites to bring my look together. I was so excited to be sent this box of makeup complimentary for testing and review purposes and I can't wait to share my thoughts with you.
This is my second Bourjois Voxbox kindly sent to me by Influenster, if you are interested in finding out a little more about how Influenster works, I have written an introduction to it on my previous Bourjois/Influenster post which you can read by clicking here.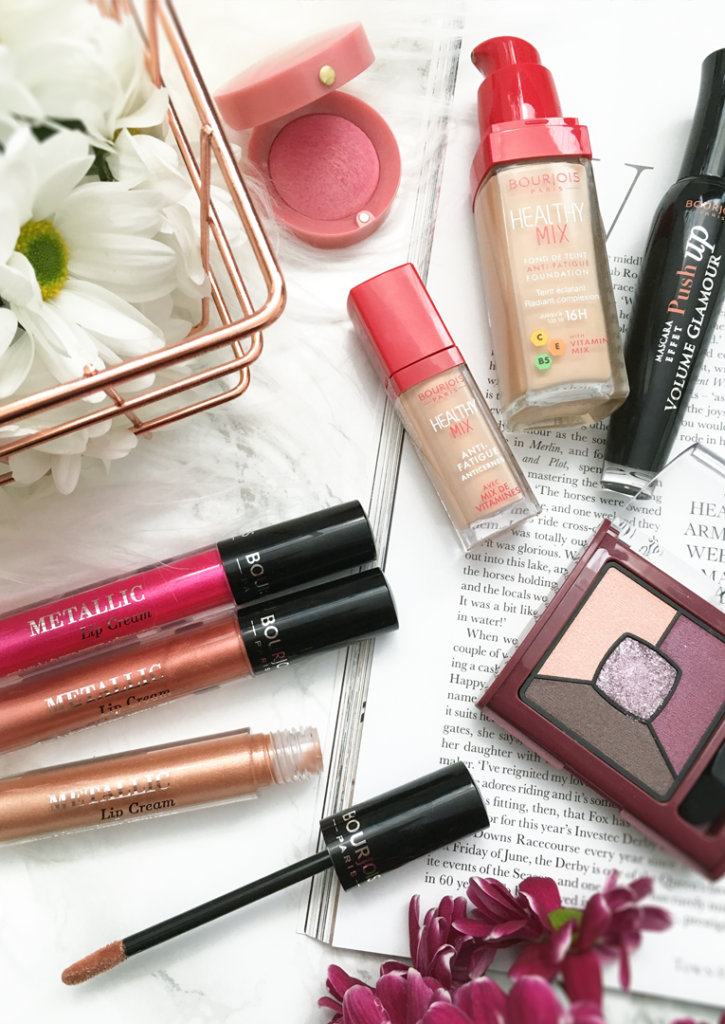 Bourjois Metallic Lip Creams | £7.99
The Metallic Lip Creams are the latest launch from Bourjois and from what I can find online there appears to be 8 shades in the line. In September Bourjois brought out 12 matte lipsticks that really took my breath away in terms of colour pay off, wear and pigmentation. To say they had set the bar high was an understatement, so when I saw these I really hoped they would be just as impressive.
Metallic lip products on the whole have certainly been gaining in popularity lately and I've seen many brands different takes on formula, shade range and application style. I find the lip cream version to be more unique as I think the market is flooded with liquid lipsticks and traditional lipstick versions of every metallic shade imaginable.
The metallic lip trend I think can produce some really mesmerizingly beautiful results and can completely transform a makeup look into something fitting for the party season. I really appreciate the artistry nature of these.
This time of year it's great to have a little fun with makeup.

Metallic Lip Cream swatches from left to right; shades 500 Neon Nights, 100 Gilded Rose and 300 Supernova.
I must admit I was initially unsure if I was going to be able to pull these off, however the shades I have been sent are all really beautiful and although not every shade will be universally flattering, I think there is defiently a shade for everyone within the collection. Personally my favourite is the shade 100 which is almost a rose gold/copper that I'm just totally in love with. It's more on the warmer side and doesn't wash me out, you can really see the metallic shine from a distance it just brings so much light and dimension to your lips.
The lip creams have a gel texture and aren't sticky, you can feel them on your lips but they aren't very thick or goopy. One swipe was enough to do my entire lips, they are incredibly opaque. As they are a cream/gloss they don't set or dry down and do transfer as a result but no more than a normal lip product.
The pigmentation and intensity is out of this world, yet again Bourjois have knocked it out of the park and for such a reasonable price they really putting some rival brands products in the shade.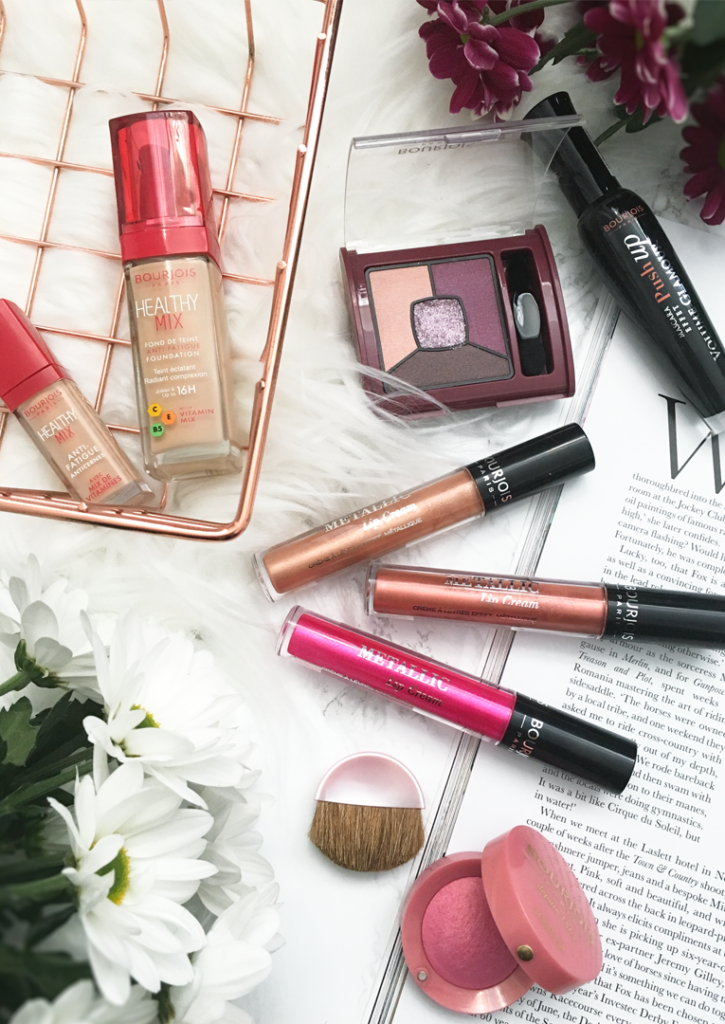 Bourjois Smoky Stories Eyeshadow quad in Brilliant Prunette | £7.99
The smoky stories eyeshadow palette in Brilliant Prunette is a new shade addition to the Bourjois line. This compact palette gives me very Dior vibes in the way it's presented. I was immediately drawn to the burgundy shade in the top right. I think smoky stories is an apt name as this palette is begging for a smoky eye look. I love that they have included a pressed glitter pigment in the centre that is really going to transform the eyes. I think glitter pigments in general are not something you see very often at a lower price point. The pigmentation is okay but I do find you have to build these up a bit to get a good payoff. The glitter can be a bit tricky to get an even application with and does have quite a bit of fall-out so I would recommend a glitter primer if you use it. The other three shades all have a satin finish so I find I wanted to incorporate a matte crease shade to complete the look. They blended well and it's a nice little evening eye palette. I find this palette to be okay in quality and it does look nice on the eyes but I don't see myself reaching for it often.

Smokey Stores Eyeshadow quad in Brilliant Prunette swatches.
Bourjois Healthy Mix Foundation | £9.99
The Healthy mix foundation is such a great product from the drugstore, I think I've been through at least two bottles of this already so I was not complaining about having a new fresh one! I would describe this as a traditional medium coverage foundation. It covers most things but doesn't completely mask the skin, which personally is my go to for most days. It does provide some radiance to the skin and dry's down to more of a natural finish that I personally like to set with powder to ensure it lasts. I find at around the 6 hour mark this foundation starts to wear away so it's not the best choice for long days. There are 9 shades in the line and I received one shade darker then I normally go for so I've swatched both the shades I have so you can see the difference, I can still make shade 54 work for me but shade 52 is a better match. As I have dry skin I find this foundation wears well on me and doesn't make my skin look dry, however I have read a few reviews that suggest it's not the best for oily skin which I can appreciate as it's not a matte formula.

Swatches from left to right, blush in Rose D'Or, Healthy Mix Foundation in shade 52 & 54, Healthy Mix Concealer in Medium.
Bourjois Healthy Mix Concealer | £8.99
The Healthy mix concealer comes in three shades and I was sent medium. I find this to be quite light coverage and it reminds me a lot of the Rimmel wake me up concealer which has the same brightening effect and light finish and therefor more suited to under the eyes then blemishes where you really want coverage. As I have quite dark under eyes I like to use a colour corrector first before using this. I love the doe foot applicator, it makes it so easy to precisely apply the concealer and find it looks nice and hydrating on the skin. I think this a product more suited to light makeup days or if you have only a few imperfections you want to cover, otherwise I would suggest the NYX HD concealer if you are looking for an all in one product with high coverage. I have been really enjoying using this as I do favour lighter coverage when my skin is clear to allow it to breath. As it is so hydrating and a bit luminous I think this is a perfect fit for my dry skin.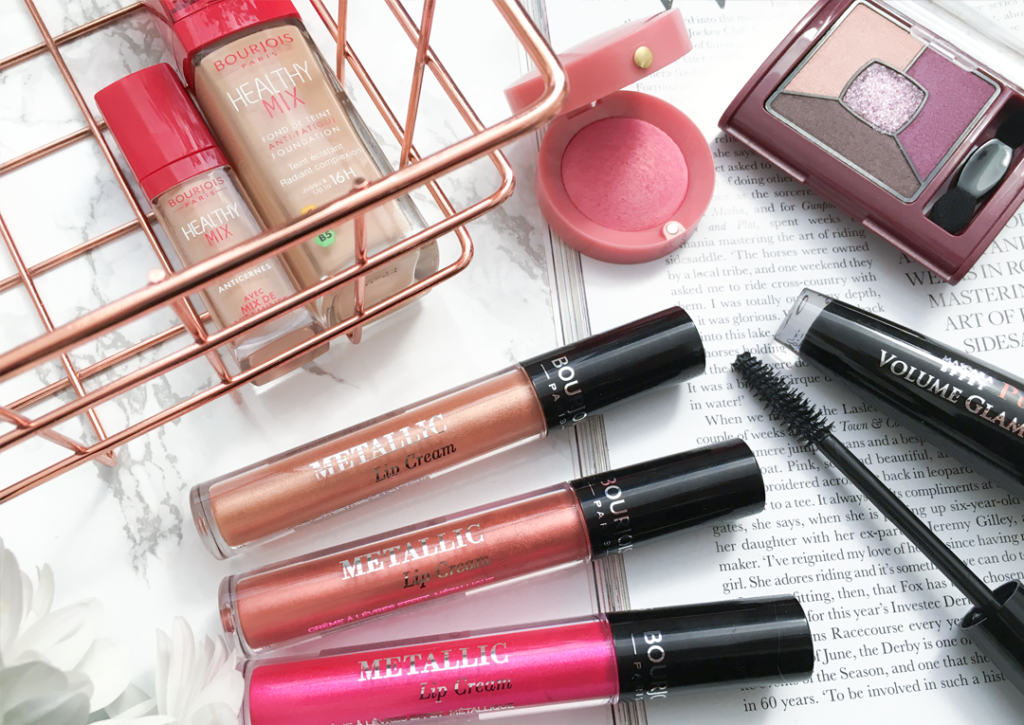 Bourjois Push Up Volume Glamour Mascara | £8.99
The Push up mascara has a natural bristle wand, it does a good job of separating the lashes and with a bit of building you can get some decent volume but I find it doesn't lengthen my lashes much. The most important thing for any mascara to pass a wear test for me is for no smudging or flaking to occur throughout the day and this mascara passes the test. I think it's a good product and I will certainly use it up but it doesn't provide extreme length and volume which I must admit I favour, its more on the natural side of scale but is all in all a good mascara.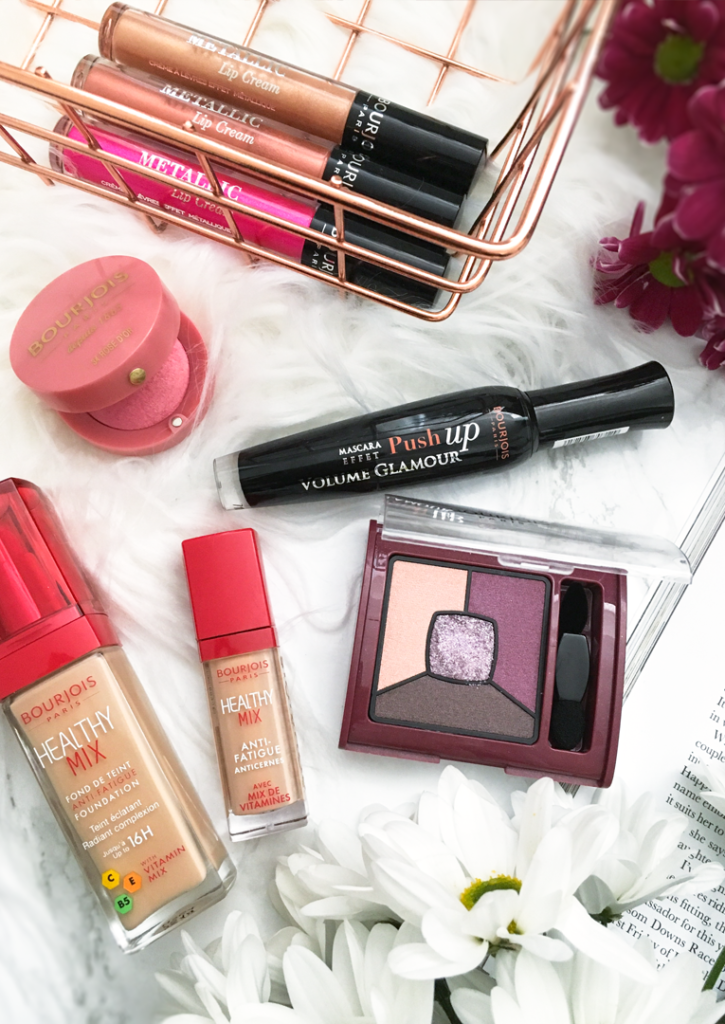 Bourjois Blush in Rose d'Or | £6.49
Bourjois is quite well known for their little round pot blushes, they have a very cute Parisian vibe and I love how compact they are. Considering it's so small I really didn't expect it to have a mirror so that's a really nice touch and the packaging in general is nice quality. This shade is quite a bright baby pink and not very complimentary on my skin as I find warmer natural toned shades to work better for me. Nevertheless this baked blush is very pretty and has a golden shimmer running throughout that really wakes up the complexion, however when the blush fades you are left with quite a bit of glitter on the skin. I would be tempted to try other shades in this line as I think the formula and quality is good but this shade just isn't flattering on me. This blush does have a floral scent which I wasn't expecting, but it doesn't linger so personally I don't mind it.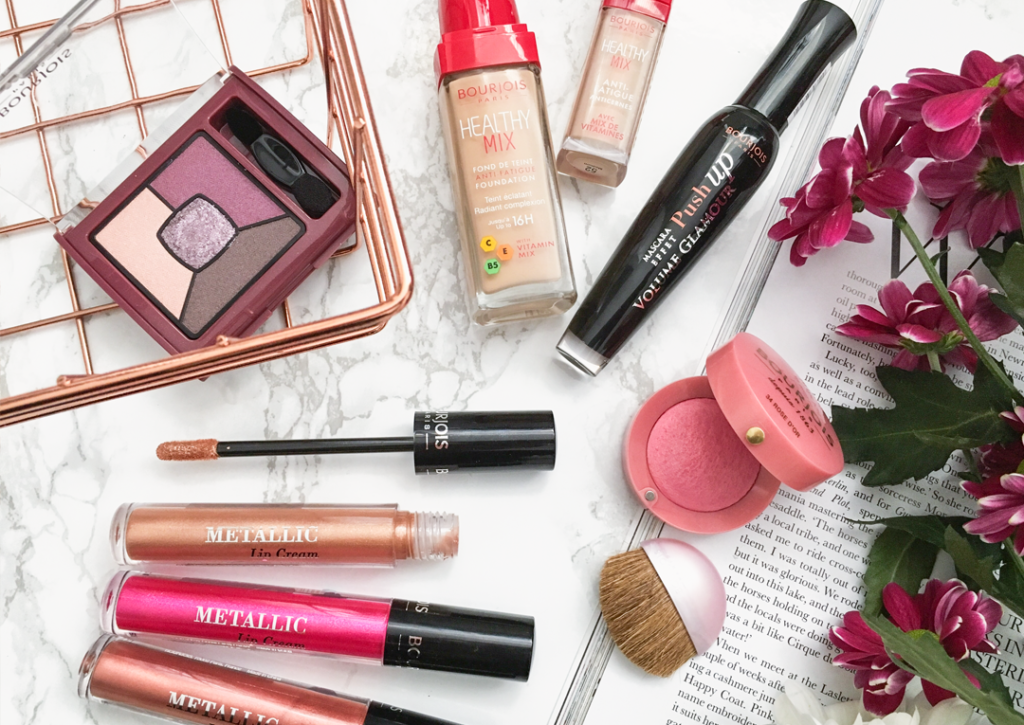 You will be ready for Kissmass in no time!
The star of the show as expected is the Metallic Lip creams, Bourjois really do fantastic lip products that don't disappoint and at such an affordable price point it's a great option to be a little adventurous with. I think if your curious about the metallic lip trend its worth giving these a try as they are so impressive all round and a product that's totally changed my mind about what I can pull off. Have you tried the metallic lip trend?