The Pixi It's Judy Time Palette Review and more
Last November I won a giveaway by the super talented and generous Sandyxo containing the ItsEyeTime, Glow and Bronze palettes and the glow-y powder blush by Pixi. Since then I have been putting these products to the test so I can share my thoughts with you. In December I received the Pixi Lip Balm in a Birchbox and thought it could make a nice addition to this review.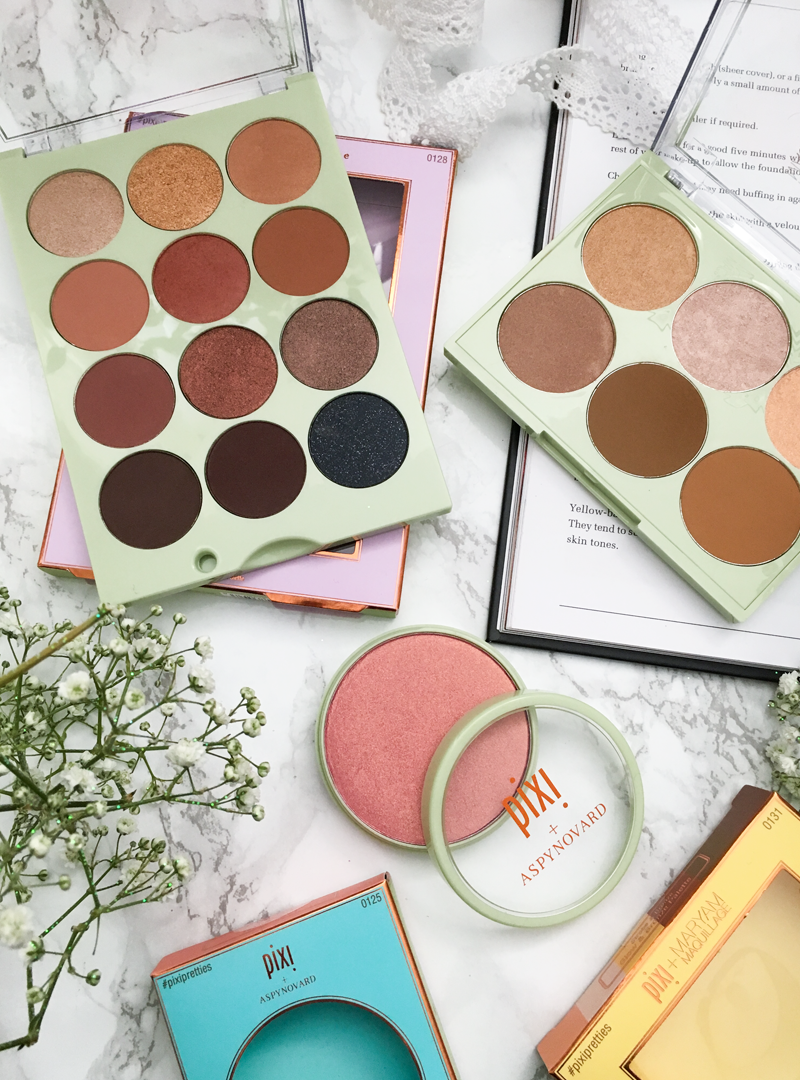 Pixi makeup has been on my radar for a while. I have been a long-time lover of their skincare products and am so glad I have had the opportunity to try some of their makeup too. Pixi is a mid-ranged price brand that started in London around 10 years ago. They initially launched eleven makeup and skincare products in collaboration with four Youtubers/bloggers; Aspyn Ovard, Caroline Hirons, Judy Travis and Maryam Maquillage back in early 2017. The products are still available at Cult beauty, Marks and Spencers, lookfantastic and ASOS to name a few, so if you are looking to get your hands on any of them they are still around.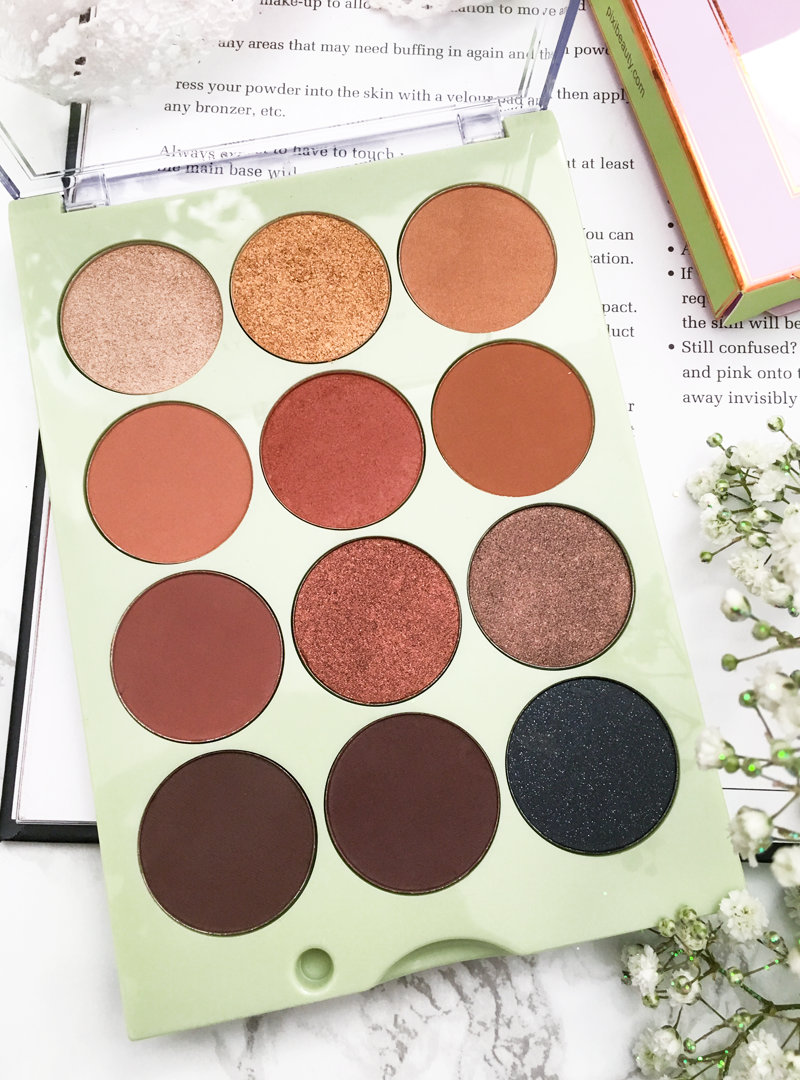 Pixi Its Judy Time Its Eye Time Eyeshadow Palette | £28
The Its Judy Time ItsEyeTime palette was created in collaboration with Youtuber & Blogger Judy Travis. Judy also created a lipstick palette in the same 12 pan format. The palette is about the size of my hand with each shadow the size of a Mac/Makeupgeek eyeshadow pan. The packaging is not bulky at all and is nice and sturdy.
This is a great warm toned neutrals palette that I have been reaching for a lot due to its great range of matte and shimmer shades that are wearable and easy to blend.
Wear time
My current eye primer routine is, Benefit's lemon aid followed by Urban Decay Primer potion. Then I set my eyelids with translucent powder before applying any eyeshadows. Using my primer routine and only the Pixi Its Judy Time palette I was able to get 6 hours wear time out of these shadows before they started wearing away on my lids. I'm impressed with the wear time, especially considering I have hooded eyes and eyeshadows tend to wear away more quickly on me as a result.
Pigmentation and consistency
The powders do have a bit of kick up, but if you dip your brush in softly it's not noticeable, the metallic shades especially are more on the soft side, however I don't find these to fall down onto my face when blending. There is quite a few matte shades in this palette which I really appreciate and they are in general buttery smooth and not chalky at all.
Its Mommys Life and Brick aren't true matte shades they have an almost satin finish. Its Mommys Life looks almost identical to Honey Bear on the eye, the slight satin finish is noticeable but the shades is so similar I don't see a need to use both in one look.
The metallic shades in this palette; Snowflake, Bubbly, Getaway and Ping are richly pigmented and give an almost wet look when applied. They blend easily and can be packed on the lid for a more intense shine.
The matte shades, Good Morning, Honey Bear, Tu Tu, Dark Chocolate and Snap are very buttery smooth and I although they aren't the most pigmented mattes I've ever tried I really don't have any complaints, they blend and preform so well.

Row 1 and 2 from left to right: Snowflake, Bubbly, Its Mommys Life, Good Morning, Brick, Honey Bear.

Row 3 and 4 from left to right: Tu Tu, Getaway, Ping, Dark Chocolate, Aww Snap, Night Night.
Shade Range
I start most of my looks with Honey Bear as my transition shade and then followed by Good Morning in my crease. These shades work perfectly together to create a warm and diffused looking crease that compliment the other shades in the palette beautifully. For day looks I like to stick to the top row for my lid shade with either Dark Chocolate or Snap to deepen the outer v of my eye. For more smoky/dramatic looks I like to incorporate Getaway and Ping as lid shades and pair that with the darkest shades in the palette to smoke them out.
Brick is the weakest shade in the palette for me, it looks like a beautiful red/brown but I find it just doesn't translate on the eye in the same way that it swatches. It's by no means a bad eyeshadow, I love the shade, I just wish it had the same impact as some of the other shades in this palette.
I find this palette is missing a light cream matte shade to use as a base and brow bone shade. Snowflake is the lightest shade in the palette and it is a beautiful light champagne, but I would substitute one of the mid-toned shades for a light beige/cream shade to create more of a range and a bit more flexibility.
I have quite a few favourite shades in this palette; Snowflake, Good Morning, Getaway and Dark Chocolate are all really beautiful and create some stunning flattering eye looks. It's really difficult to pick a favourite, because overall I think the shade selection is fantastic and well thought-out.
Packaging
The powder products I have are packaged in pixi's signature pistachio green with clear lids to easily see the shades beneath. I find the packaging to be sturdy and high quality. I personally don't mind that these products don't have mirrors as I always sit at my vanity to do my makeup, but the eyeshadow palette does come with a stick on mirror that you can attach if you would like to.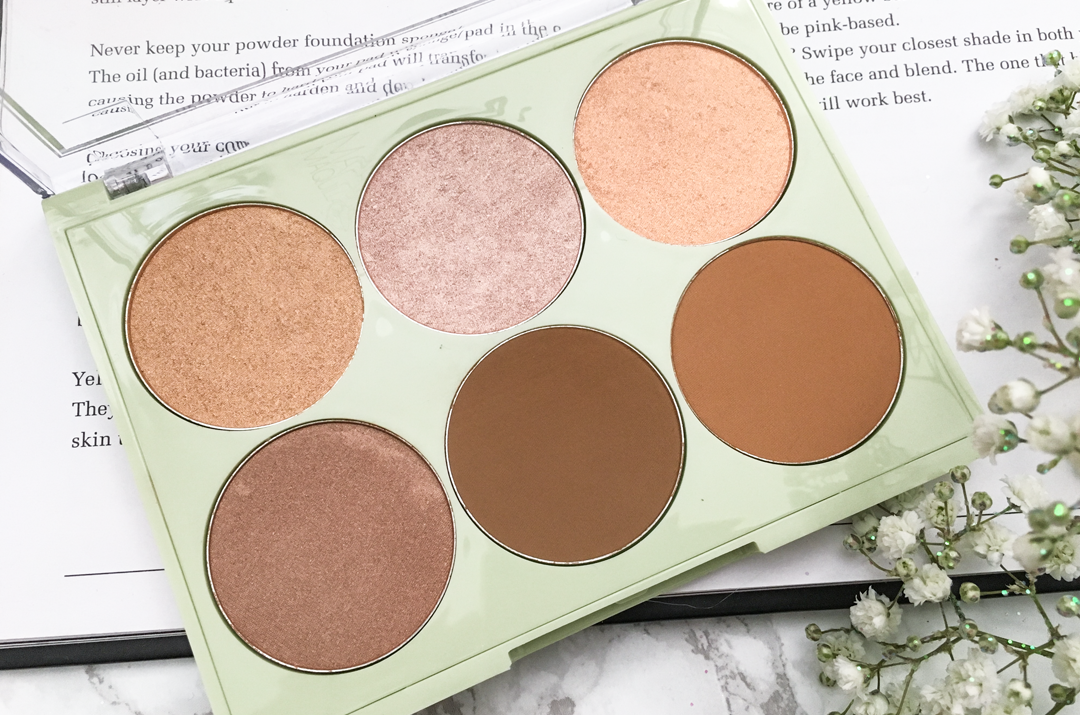 Pixi Maryam Maquillage Strobe & Bronze Glow and Bronze Palette |£24
I think the photos of the Strobe and Bronze palette don't quite do it justice, it really is a beautiful 6 pan face palette with a lot of offerings. I love the balance of highlighter and bronzers and think it allows for a nice variety of options.
The powders have very similar textures to the eyeshadow palette, the metallic are super pigmented and smooth and the mattes are on the softer side but are so finely milled and easy to work with.

From left to right: Highline, Empress, Lex, City Kitty, Statuesque, 917.
Shade Range
This palette is more definitely suited to medium skin tones, the bronzer/contour shades are very warm in tone and overall the shade range lends itself more towards medium/deep skin tones. Although I find all the highlight shades in this palette work for my ivory skin, Empress offers the most highlighting effect on my cheekbones as it is the lightest shade in the palette.
The matte bronzer shade; City Kitty is very warmed toned and can look quite orange on the skin, I think if you had very pale skin or cool undertones you would find this shade to orange to work with.
My favourite shade is Statuesque, I find it to be a really nice contour shade and because the powder is so finely milled it blends out really easily and doesn't look patchy or uneven. Paired with Empress as my highlighter I really love the combo and have been incorporating it into my looks more and more.
Overall I really like this face palette, although I don't find every shade to be a perfect fit for my skin tone I can use a majority of the shades and like how it looks on the skin. I don't often reach for shimmer bronzes unless I'm lucky enough to have a tan but it's the shade 917 makes a nice addition to the palette and it is a powder I can see myself getting some use out of in the summer months.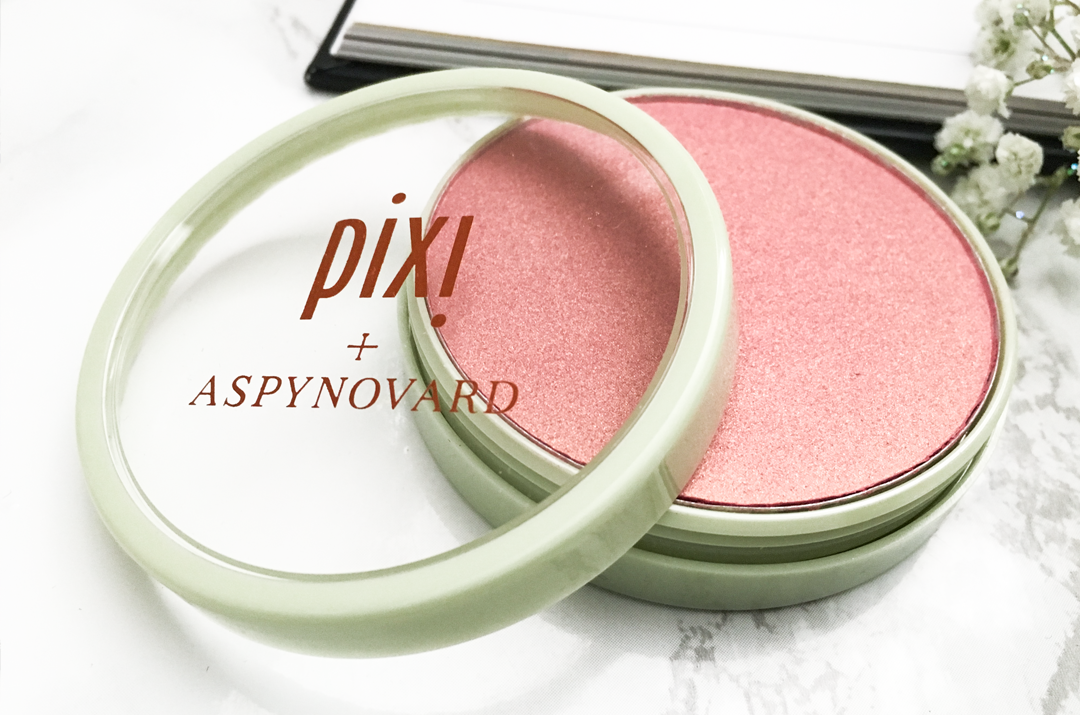 Pixi Aspynovard Glow-y Powder in Rome Rose | £14
The glow-y powder in Rome rose by Aspynovard is one of three shades within Aspyn's collaboration. Although it is described as a highlighter on the Pixi website the warm rosy shade suggest it is more of a blush.
This is very sparkly, so much so when I apply it to my cheeks the gold shimmer dominates. I find on its own this doesn't give you much colour but layered over a matte blush as a topper you can get a nice combo to make your skin appear more radiant and glowing.
This won't be a shade for everyone and truthfully I'm a little on the fence with it myself. On the one hand the product itself is beautifully smooth and easy to blend, and in the pan the shade looks so gorgeous and wearable. On the other hand because of it has such a strong pink undertone paired with an intense gold shimmer, it falls in between being a blush and a highlighter and can look too shimmery on the apples of the cheeks.

From left to right: Pixi by Petra Lip Balm in Natural Rose, Glow-y Powder in Rome Rose.
I would definitely categorise this as more of a blush topper. If you like shimmer and if want to transform a matte blush, this is going to look beautiful and can be really flattering if used in a certain way. Because of the rosy pink tone I think it would be difficult to use as a highlighter although when it catches the light it does appear more gold. This is one really comes to down to if you like shimmery blushes and if cool toned pinks suit you. It's a high quality product that performs really well and for £14 I think it's a great value too. As someone who generally favours matte blushes I enjoy using this as a blush topper from time to time but it's unlikely to be an everyday product for me.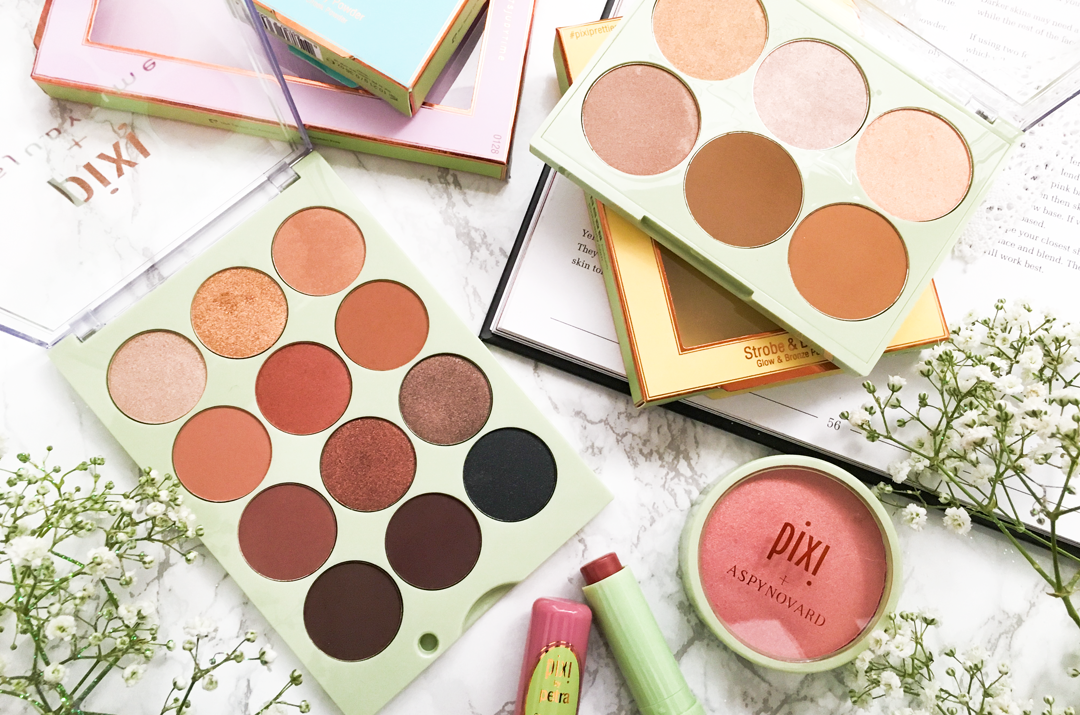 Pixi by Petra Shea Butter Lip Balm in Natural Rose | £8
The Pixi lip balm has a texture that is more comparable to a lipstick then a lip balm. The shade natural rose is a really beautiful wearable mid toned pink that I find really flattering on with my skin tone. It doesn't feel drying on the lips but I find if your lips are dry already it can exaggerate the appearance of dryness and not provide the hydration that you would expect from a normal lip balm. As this product feels and acts more like a lipstick it doesn't have that sheer colour payoff you would expect and is actually quite opaque. Meaning I wasn't able to see any of my natural lip colour through the balm. I really love the shade of this, but I do think it's less of a lip balm and more of a lipstick, so the name and packaging choice feels a bit miss matched to me. I'm going to continue to use it as I do think it's pretty but I find it works best if you think of it as a lipstick.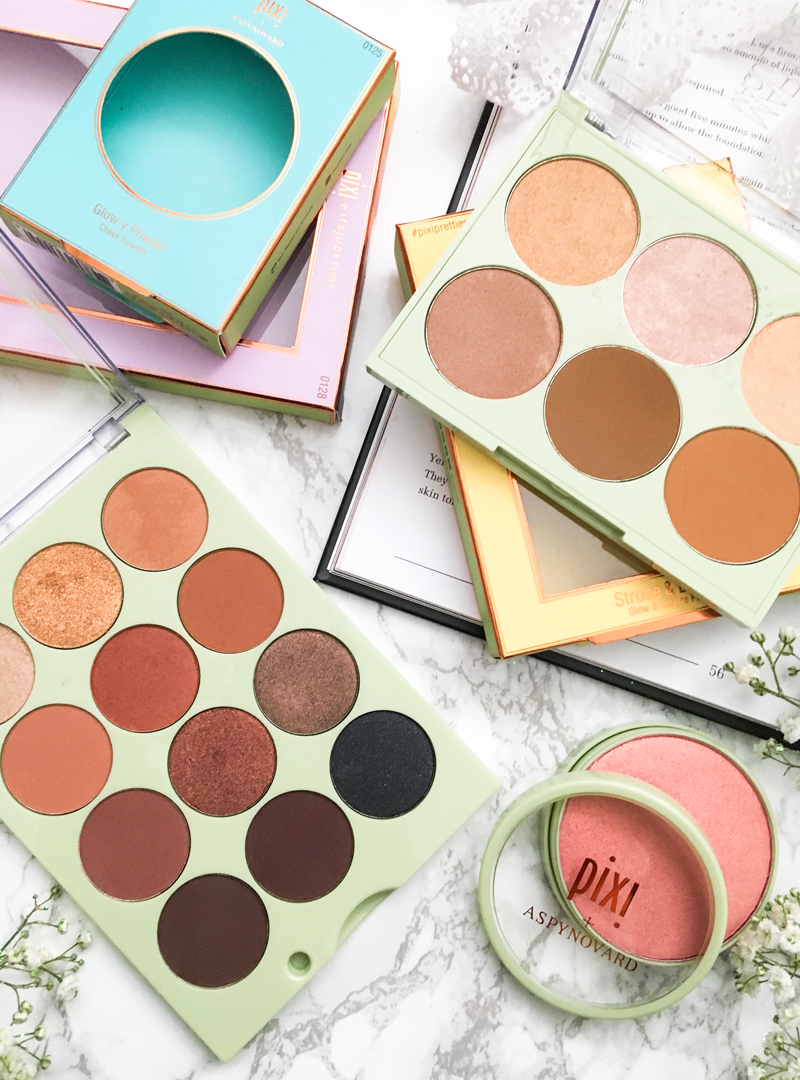 I was so delighted to have won these products, and thank you again to Sandyxo for gifting them to me.
The ItsEyeTime palette is one I can see myself continually reaching for as it contains beautiful warm toned wearable shades that are great for every day makeup looks, but it still has a nice amount of variety to play with.
The Glow-y blush is beautiful but as it is so shimmery I can only see myself using it in more specific instances and primarily as a blush topper.
The natural rose lip balm is a really nice shade on my lips, but looks and feels more like a lipstick. If you are looking for a lip balm then you may feel miss sold.
Last but not least the Strobe and Bronze palette offers a great variety of shades suited to medium skin tones. The powders blend beautifully and it's a great compact face palette that is perfect for those who love a warm glow.
Have you tried any of the Pixi collaboration products?