What's inside the Sixth Edition?
This is my first time trying the QVC Tili beauty box, for £20 you can grab the latest edition chock full of beauty products from brands they sell on their site. There is a range of full size and trial size products across hair, makeup, skincare and bodycare products included in each box.

The sixth edition of the Tili box has sadly sold out now but I still wanted to share with you what it contained and how I feel about the box in general. For £20 I got 11 products valued at approx £80. What I love about Tili is that it's a one off purchase, you aren't tied to a subscription and as you can see everything the box contains, you can assess whether you would like to purchase or wait for the next one. They do sell out really quickly so you have to be fast but if you can get your hands on one it's a great way to try a variety of new and cult products.

What was in the box?
Pixi Glow Booster (12ml)
Percy & Reed No Oil Oil (30ml)
Nails Inc Nail Polish in Tili Rose Bellini (10ml)
Philosophy Purity Made Simple One-Step Facial Cleanser (30ml)
Bio-Extracts Glow Boost (5ml)
Laura Geller Lash Boss Mascara (4ml)
Tula Exfoliating Treatment Mask (15ml)
Korres Lily Blossom Shower Gel (250ml)
Erno Laszlo Firmarine Hydrogel Mask (25g)
Decléor Gommage 1000 Grain Body Exfoliator (50ml)
Taya Red Clay Naturals Miracle Balm (30ml)
This edition contained; 2 hair products, 2 body products, 2 makeup products, 4 skincare products and 1 nail polish. So I think it has a great mix of items across the board of beauty. I was familiar with a few brands and products but there was certainly some new to me items that I was intrigued to try.
The box is really beautifully packaged and feels quite luxurious. I think this could make a fantastic gift for beauty lovers in your life as the presentation is stunning and the mix of brands and product types means that the recipient has a great variety of things to try.
The Korres Lily Blossom shower gel is definitely full size at 250ml and smells so fresh and light. I have used Korres Shower gels in the past and was immediately drawn to this item in the box. As they normally retail for around £8 this pays for almost half the box.
The Erno Laszlo Firm and Lift hydrogel Mask also appears to be full size. I hadn't heard of this brand before but I'm always game to try new skincare. This single use sheet mask claims to awaken tired skin and reveal and smooth and awake finish. I think we can all agree that sounds pretty fantastic, I'm just waiting for the perfect opportunity to give it a try myself. These normally sell for £44 for a pack of 4 on the QVC website, so we can say that this mask costs around £11, it better be good!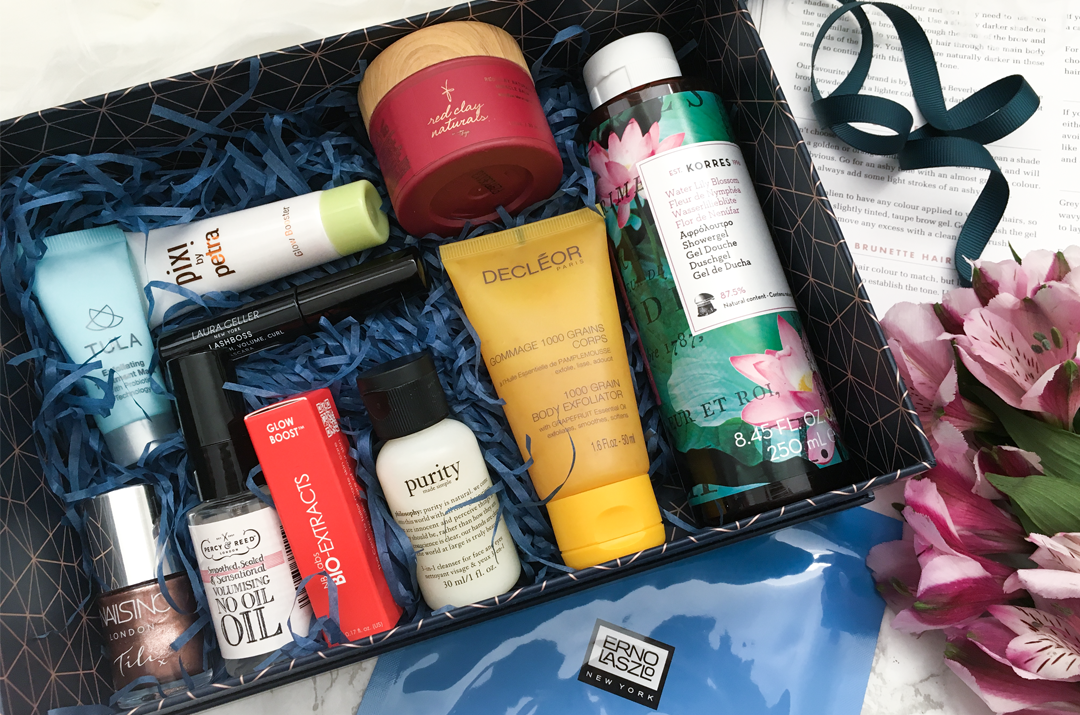 Pixi, Laura Gellar, Percy & Reed and Decleor are all brands I'm very familiar with so I was glad to see them all feature in the box. Especially since I hadn't tried any of these particular products from any of the brands. These are all deluxe sample sizes and a good opportunity to really test these items as I know it will take me some time to use them up.
The Nails Inc polish included in this box is a Tili specially created shade called Rose Bellini. It's a beautiful metallic rose gold.  I have quite a few Nails Inc polishes and I can vouch for the quality of their formula. Their typical packaging is a rectangle and contains around 14ml of polish where this size is 10ml. So it's a little smaller then full size. I like that this shade is unique to the box and not necessarily something you can buy separately, it just makes it feel a little more special.  I could also appreciate that if you love it, you can't buy it again which is the problem I always face with limited edition products. It's a beautiful shade and I look forward to painting my nails with it.
NB Labs, Tula and Red Clay Naturals are all new brands to me. Initially I thought the Red Clay Naturals was a body lotion, but luckily I googled it and discovered it was a hair mask! I'm not the best at remembering to use hair masks but I hope it I place it right next to my shampoo that will jog my memory to give it a try. The Tula Exfoliating Treatment mask sounds really interesting, I love a two-in-one product that will brighten and clear the skin. I look forward to giving it a try. The NB Labs Bio-Extracts Glow Boost is a really interesting product, a drop can be added to your serum or moisturiser in the morning to ramp up the glow. In the winter months my dry skin goes from being manageable to an absolute desert, so anything that can turn that around I'm interested.
Last but not least, the Philosophy Purity Cleanser, I remember hearing a lot about this back in the day and I see their body products on sale from time to time but it's a brand I have yet to try. This is a decent sample size and I look forward to testing it out.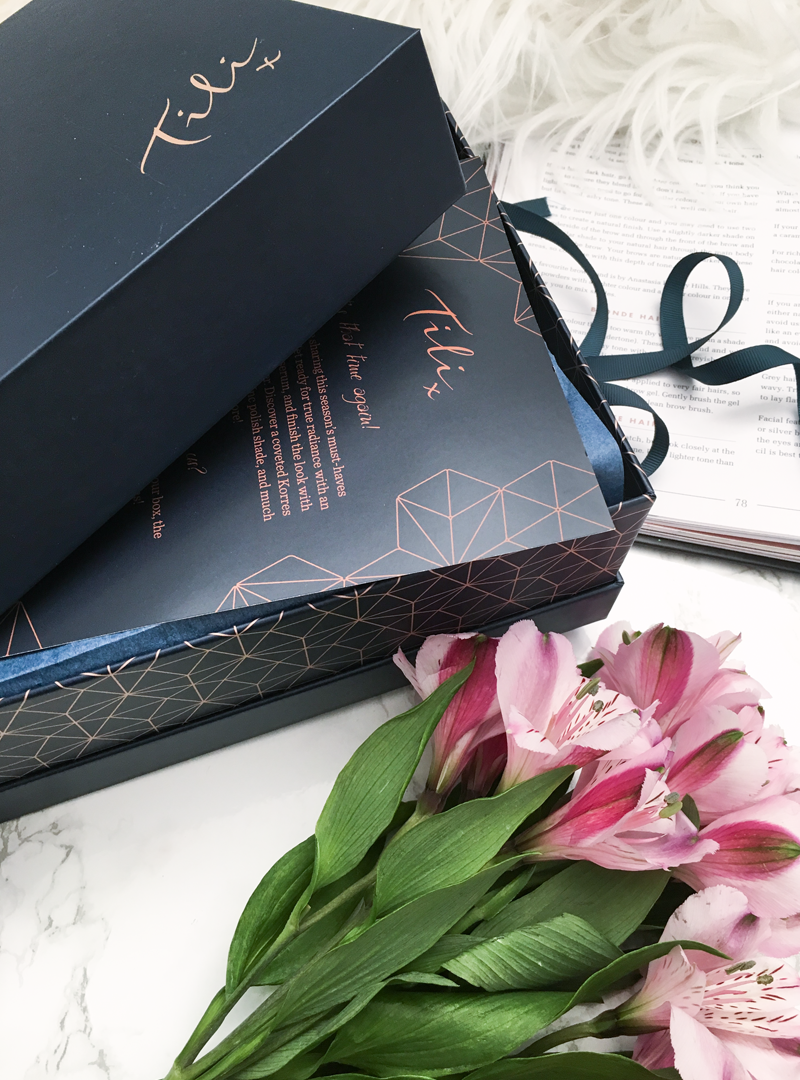 Overall I'm really pleased with the contents of my Tili box, I am Impressed with the range of products I hope to find some new favourites. I think the value of the box is really high and I love that you don't have to sign up for anything. Looking over the content of previous editions of the Tili box, there is always a great selection with a variety of brands and none of them feel samey. I would definitely buy another Tili box in the future.
What do you think of the Tili box, would you buy one?