Stand Tall and be fabulous
It wasn't long ago I was unboxing my December Birchbox but already another box of delights has appeared on my doorstep. I was so excited to continue with my subscription after being positively thrilled by what I received in my first box. If you missed it, you can catch up with my December 2017 Birchbox post here.
This month's Birchbox is in collaboration with quirky stationery brand Oh Deer. I have been a long-time lover of Oh Deer's unique and beautiful prints and designs and this box doesn't disappoint. The gorgeous flamingo print is just the cutest and although it is cold and grey outside, this box has me dreaming of summer.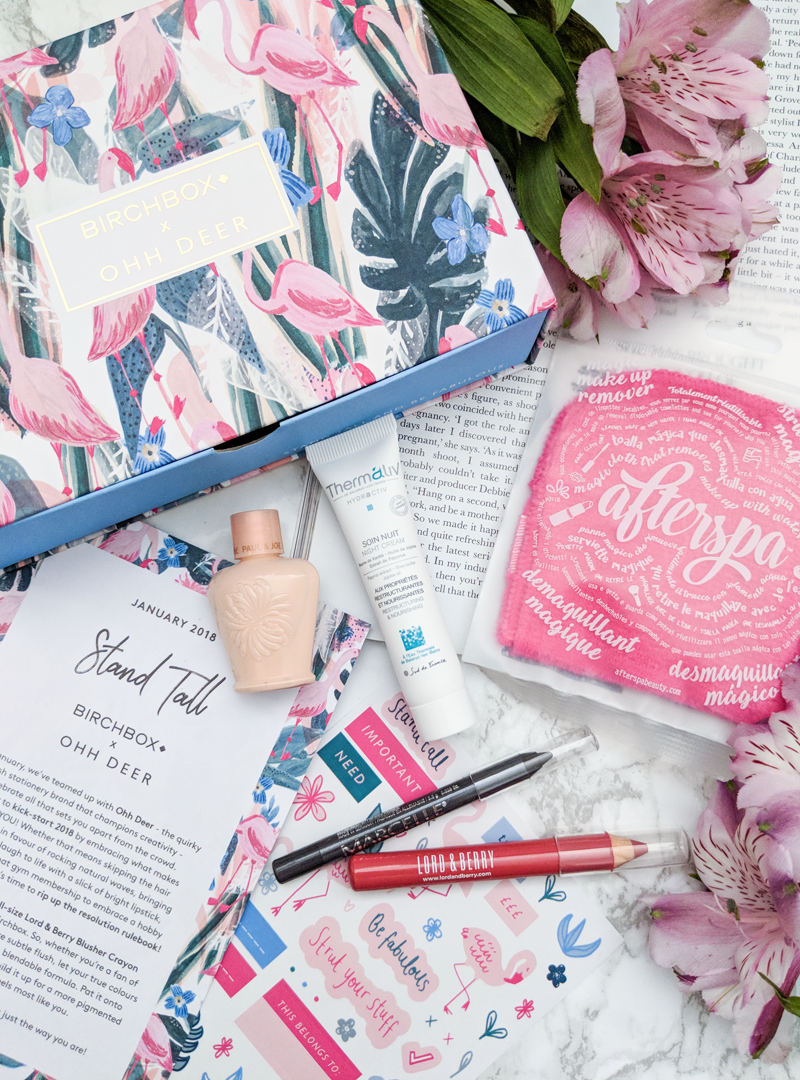 What's in my box?
Lord & Berry Blush Crayon In camellia (full size) 1.6g
Afterspa Amazing Makeup Remover
Paul & Joe Moisturising Foundation Primer S in 01 Dagree 0.33 fl.oz
Thermaliv Night Cream 15ml
Marcelle Waterproof eyeliner in Charcoal 0.028 Oz
As this is only my second box I'm still familiarising myself with the brands and format of Birchbox. Just like last time I was able to select one product ahead of time that was guaranteed to be one of the 5 items included in my box. This month's choice was between two shades of the Lord & Berry Blush Crayon. I went for the medium pink shade called Camelia. I have never used a wooden pencil as a blush, nor have I ever seen such a skinny blush but I'm intrigued by the concept and look forward to giving this a try. As long as it blends easily I'm sure I will like it as it's a beautiful shade.
Next big thing in my box was the Afterspa Makeup remover. This is an ultra-soft towel that needs to be washed before use but after that you are ready to remove your makeup with only water! I don't know how this works it seems like pure magic to me and I can't wait to see the results. I love that you don't need anything else to use this but water and I'm hoping I won't have to scrub at my skin to get this to work. We shall see!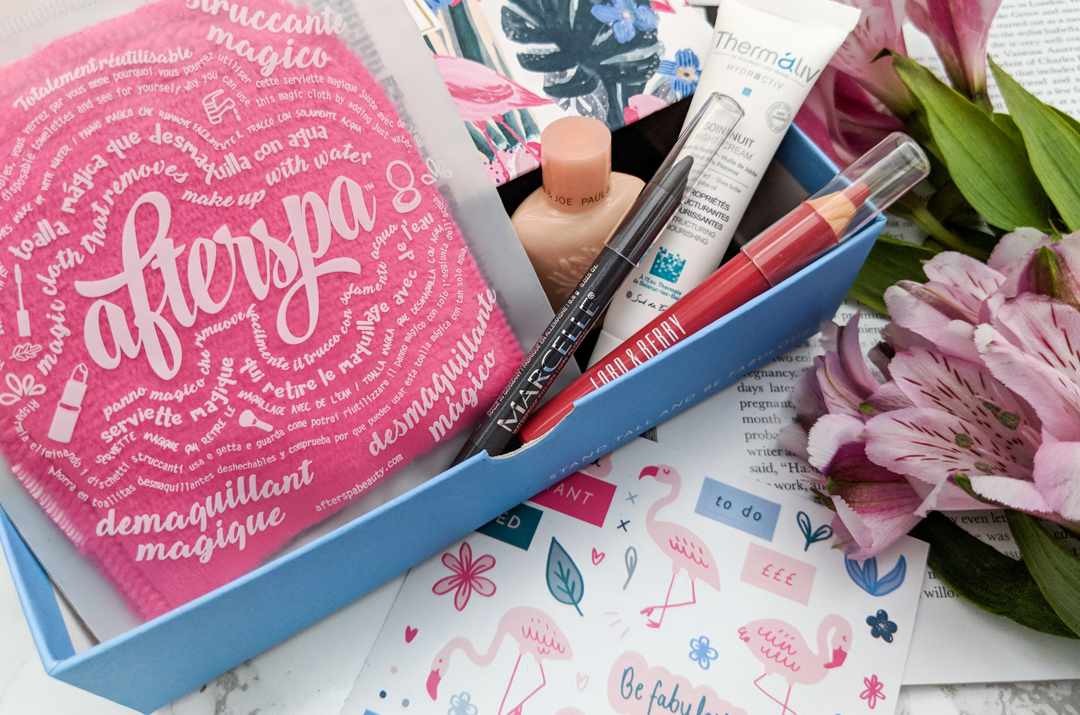 Item number three was a sample size of the Paul & Joe foundation primer. When I first saw this I had no idea what it was, it's a beautiful bottle but it doesn't give much away as to what's inside. Upon further inspection I found this to be a a pink tinted primer with a fruity and floral scent and a subtle pearl finish. I have never tried this brand before but I'm excited too, and it's great to see a Japanese brand included in the box.
The Thermaliv night cream is the perfect size for travel and has a lovely fresh scent. I love French skincare and as nerdy as it sounds I love trying new moisturisers. Packed with sea chamomile to boost collagen and vitamin E to soothe I think this night cream may have been made for me.
Last up we have the Marcelle eyeliner pencil. As I so rarely wear eyeliner I was neutral about receiving this in my box. It is waterproof which my preferred option as I have watery eyes. I don't have any pencils in a charcoal grey so it may suit me better as I find black looks quite harsh on me. It swatches easily and looks like a nice formula, I will be giving this a try.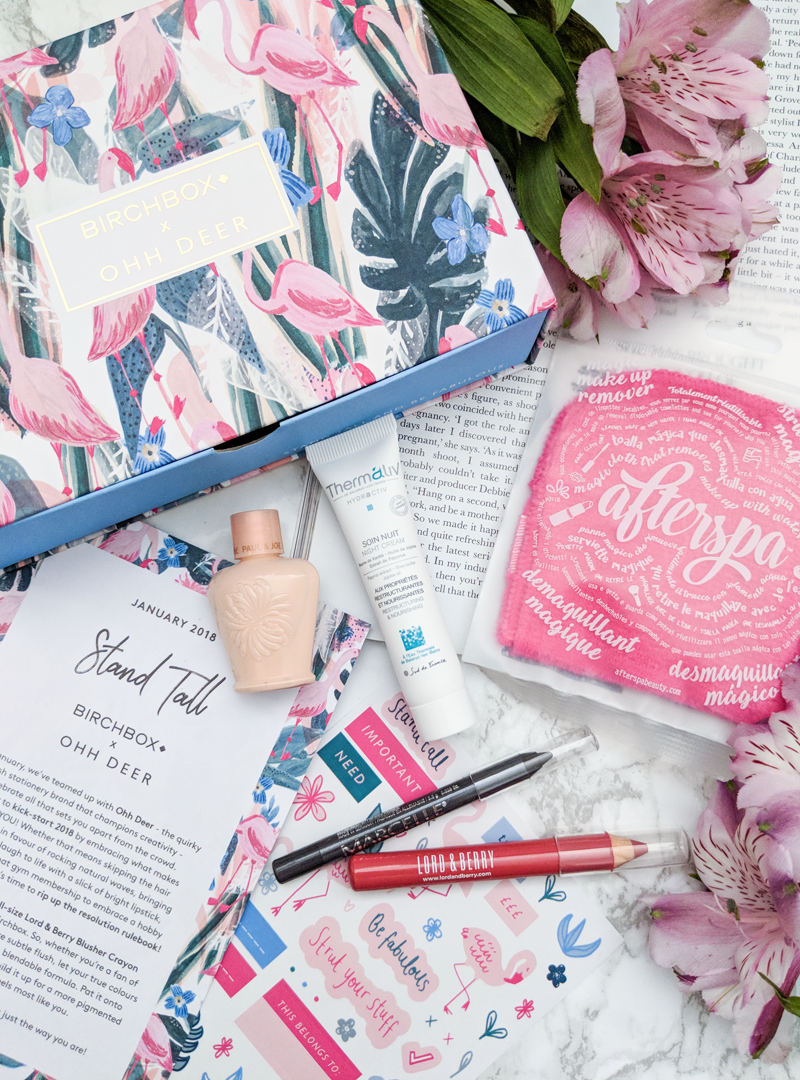 As a bonus there was a sheet of super adorable stickers included, since Oh Deer is a stationery brand after all. I must admit I was a bit more excited about last month's selection, but I'm still really pleased with my items and like the fact there is a few more makeup products included this time round. I'm looking forward to my February box already.
Do you subscribe to any beauty subscriptions?