My Full Review on all the products form the #Insta line
I receive the #Insta collection from Rimmel back in June and have been testing these products ever since. This collection is focused on complexion with several of the products also having contouring elements to them. After three months of testing I can't wait to tell you my thoughts.
I was so excited when I saw this collection as the products felt different to anything else that was being released at the time. Although I don't contour regularly I do like to try and play with different contour products and these felt a little more accessible than most. Partly due to the option for the stick format or if preferred the palette style, this collection aims to help you master contouring and a flawless base with multi-tasking products and clear instructions.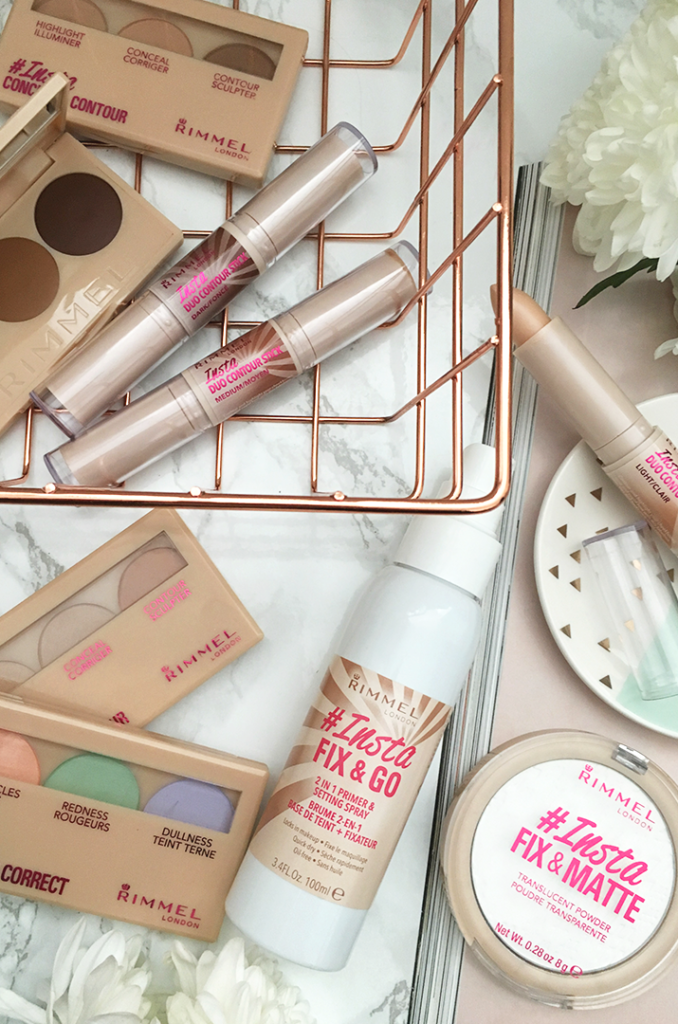 In this collection:
Insta Fix and Go Setting Spray – 100ml
Insta Fix and Matte Powder – 8g
Insta Duo Contour Stick – 4 g (Light, Medium & Dark)
Insta Conceal and Contour Palette – 7 g (Light, Medium & Dark)
Insta Conceal and Correct Palette – 9 g
Insta Fix and Go Setting Spray
This setting spray has a delightful cucumber scent, after drenching my face in this every day for several weeks I can honestly say I love this stuff. My makeup really does last longer and wear better. It doesn't aggravate my skin or move my makeup around upon application. The mist doesn't spit at you or spray unevenly, its perfect. This was the first Drugstore Setting spray I have tried so I cannot actually compare it to setting sprays of a similar price point but compared to my Urban Decay All Nighter I actually notice more of a staying power with the Insta fix.
This products also states that you can use this as a primer, I've only tried this once or twice. I just prefer creams or gels for primers as I can more easily target different areas of my face then I can with a mist. Having said that this works well as a primer, and if you are looking for a 2 in 1 product this would be a great one to try.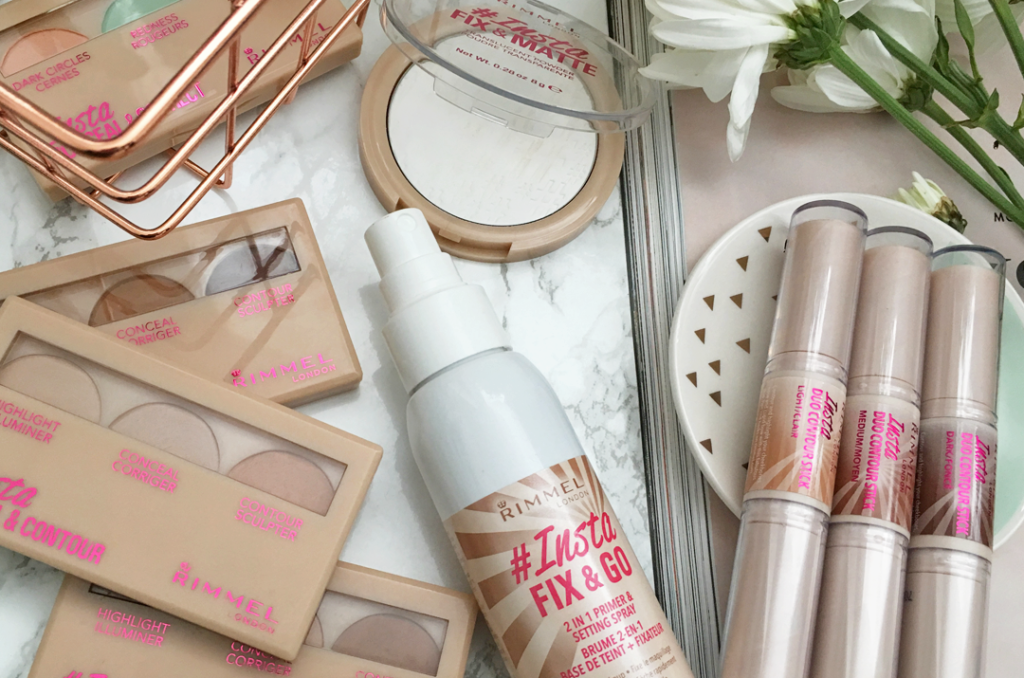 Insta Fix and Matte Powder
Rimmel makes some of the best setting powders at the drugstore and this one doesn't disappoint either. The Fix and Matte powder is completely translucent so one shade fits all and is embossed with adorable hashtags to create the print. It doesn't kick up any product when you dip your brush into it, it's more of a solid formula but when applied to the skin it blends and mattifies you skin perfectly without looking dry or patchy. I really love this powder I think it leaves the skin looking really flawless and not a all cakey or heavy. It's so finely milled its almost undetectable on the skin and reminds me a lot of the Make Up For Ever translucent powder which I absolutely adore. Despite having dry skin I can comfortably use this powder without it exaggerating any dryness on my skin. It sets my foundation beautifully and I've been reaching for it a lot.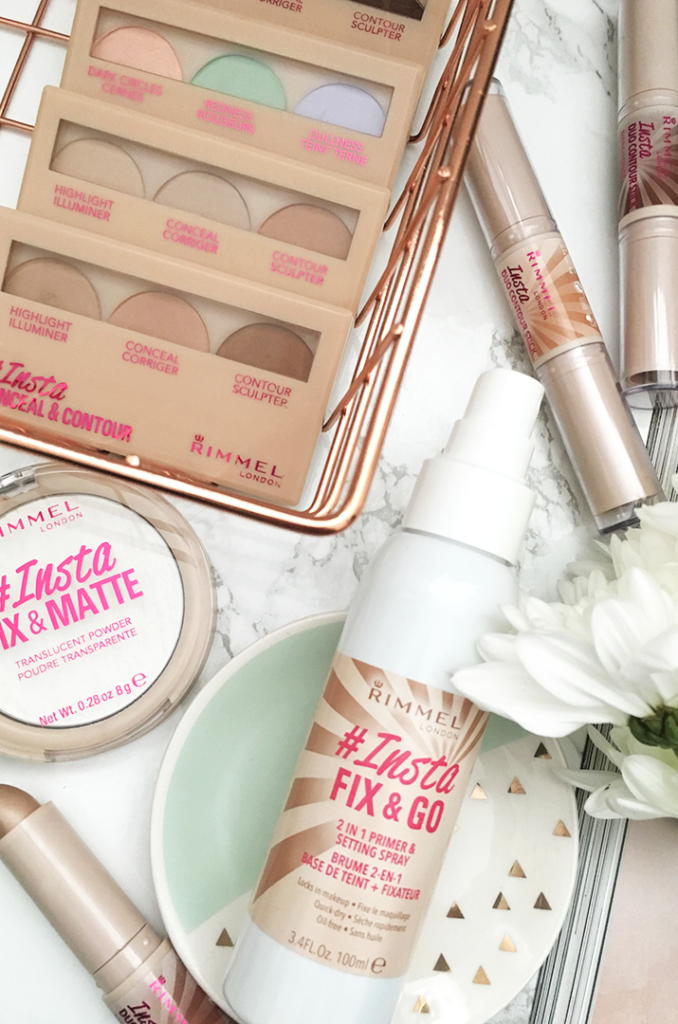 Insta Duo Contour Sticks
I'm really pleased to see Rimmel cater to deeper skin tones within this collection, this is something that in general is really lacking at the drugstore. The light and medium of the Duo contour sticks are quite similar in tone with some subtle differences between the two shades. The medium contour is a hair warmer in tone but they are so close I don't think you can tell much of a difference on the skin.
In general I use the medium stick for contouring, these are so quick and easy to use because they are in a stick format, I just draw a line and then use my Real Techniques contour brush to blend it out. They are an emollient creamy formula and blend really effortless out on the skin. The first application is quite a natural effect but you can build these up really easily if you want a more dramatic contour. I love how this creates a sharp clean contour that doesn't look muddy on the skin. I also tend to use this around my hair line on my forehead and blend it out with a similar method and it works wonderfully to create added dimension. I don't nose contour on myself but I think this stick would be precise enough to work really well.
On the other end of the stick is a twist up highlighter. These are all pretty shade and I get use out of all three. I tend to gravitate towards intense highlights and these are more on the subtle side, however they can make a great cream base for you to apply a powder highlighter on top for an even better result. I love all the tones of the highlighter shades, they are quite neutral with a champagne feel to them. I find with most cream highlighters they show more texture on the skin then a powder does but again the stick format means you can be really precise with your placement and these are great for smaller areas like the cupids bow.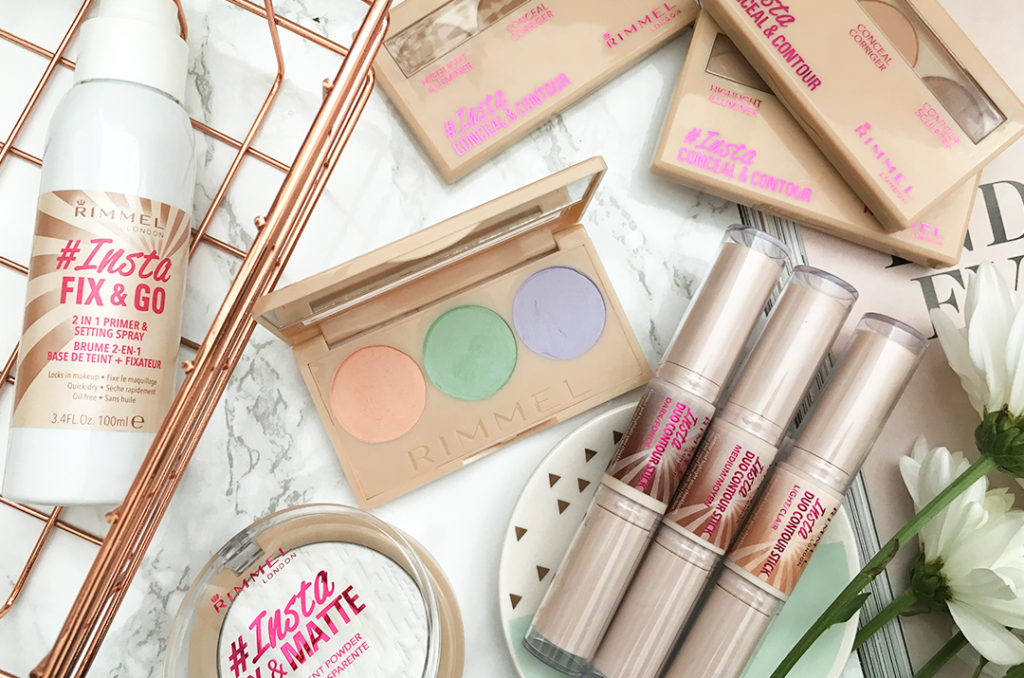 Insta Conceal and Contour Palettes
The Conceal and Contour palettes contain  nicely creamy shades, but less emollient then other cream products I've tried, partly due to the matte finish given when applied to the skin. Using my ring finger I dot the contour shade following my cheekbone and again I like to blend these out with my Real Techniques contour brush for a really beautiful sculpted look, I also add this to the perimeters of my forehead. I find the medium palettes contour shade is more warmed toned so would work well as a creamy bronzer. I've been swapping between the light and medium palette to complete my look.
These also have a concealer which has great coverage and works well on blemishes, you can use this under the eyes as well but in general I like to use a liquid concealer under my eyes as I have dry skin instead. The last shade in the palette can be used to brighten and illuminate it's also matte formula but doesn't contain any shimmer, so can be used anyway you want to highlight. The shades switch from warm to cool undertones depending on which palette you have. I sometimes even mix the concealer and illuminator shade to create a custom concealer. There really is no right or wrong way to use these, it's completely up to you. I actually enjoy having all three palettes as it means I can really mix and match to create a bronzer, contour, concealer and matte illuminator shade if I want to go all out.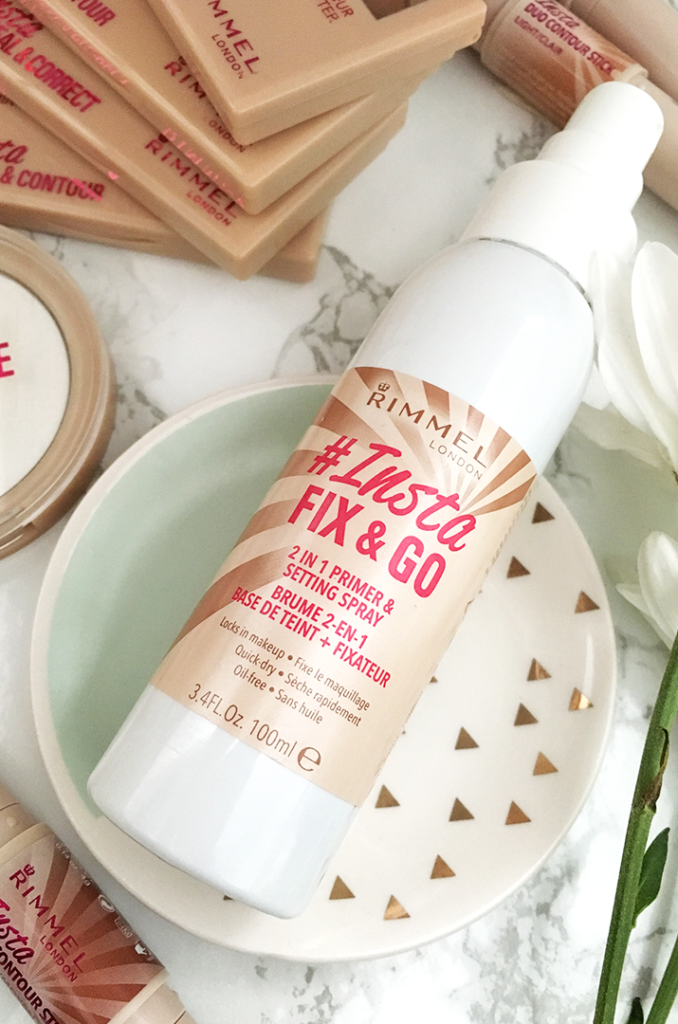 Insta Conceal and Correct Palette
The Conceal and Correct palette shades all have a strong white base to them to achieve the pastel shades so I do find them a bit chalkier in texture. I use the peach under my eyes, the green on any redness and the purple on anywhere I want to brighten so in between the brows, done the centre of the nose and the chin. They blend out well and have medium coverage. They aren't as creamy as the skin-toned products but I attribute that to the white that has been used to achieve the shades as mentioned earlier. I find colour correcting in general does create a nice final result but it is not an everyday step for me. I apply my foundation over top and I do notice a more even skin tone as a result. These do blend away if you overwork them so it's best to tap them in to the skin.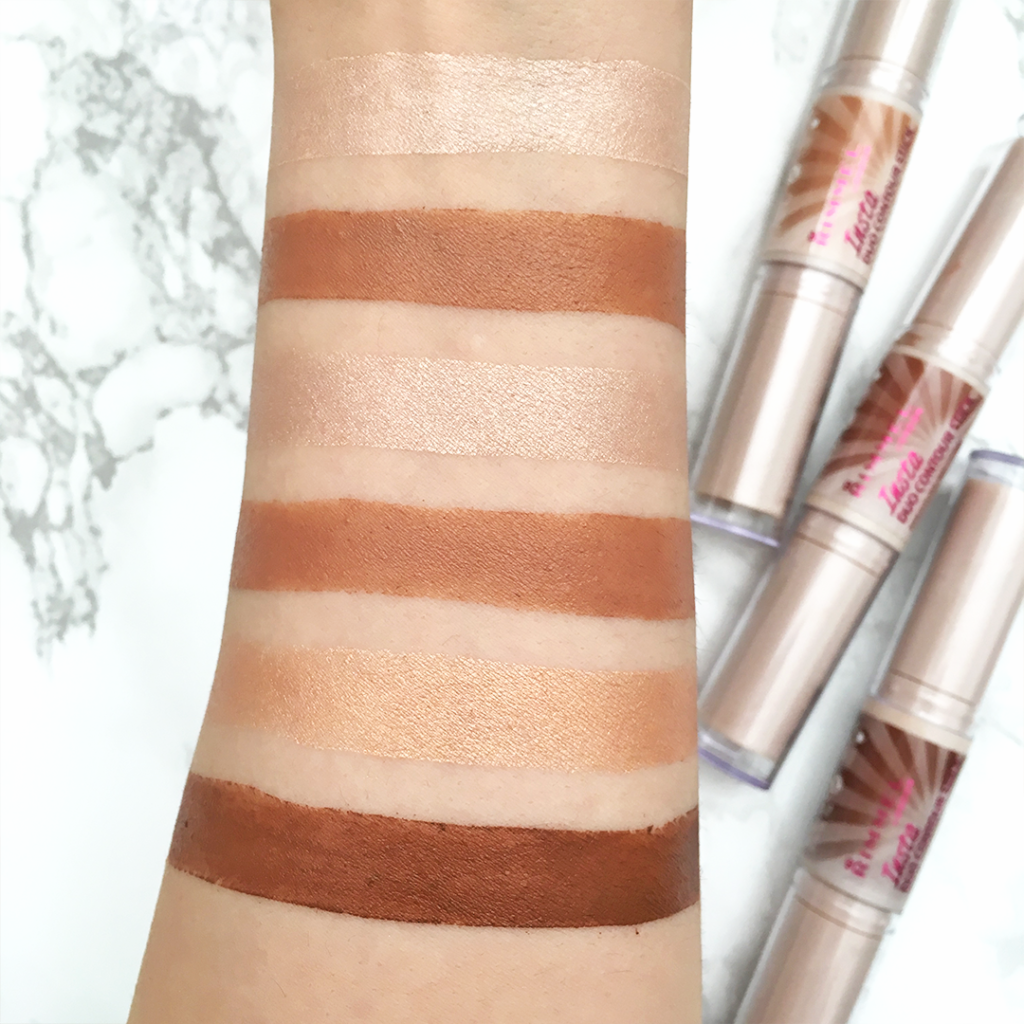 Swatches of the #Insta Duo Contour sticks; Top: Light, Middle: Medium, Bottom: Dark.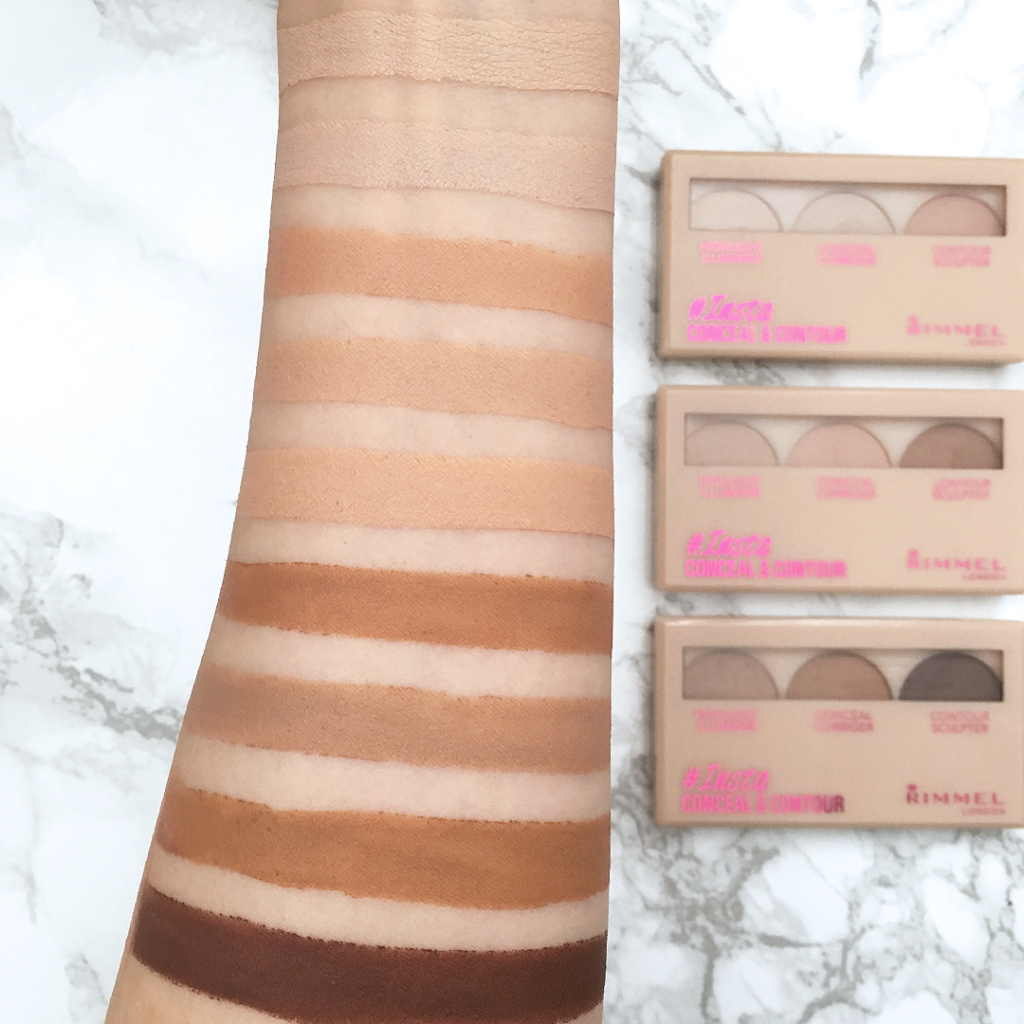 Swatches of the #Insta Conceal and Contour Palettes; Top: Light, Middle: Medium, Bottom: Dark.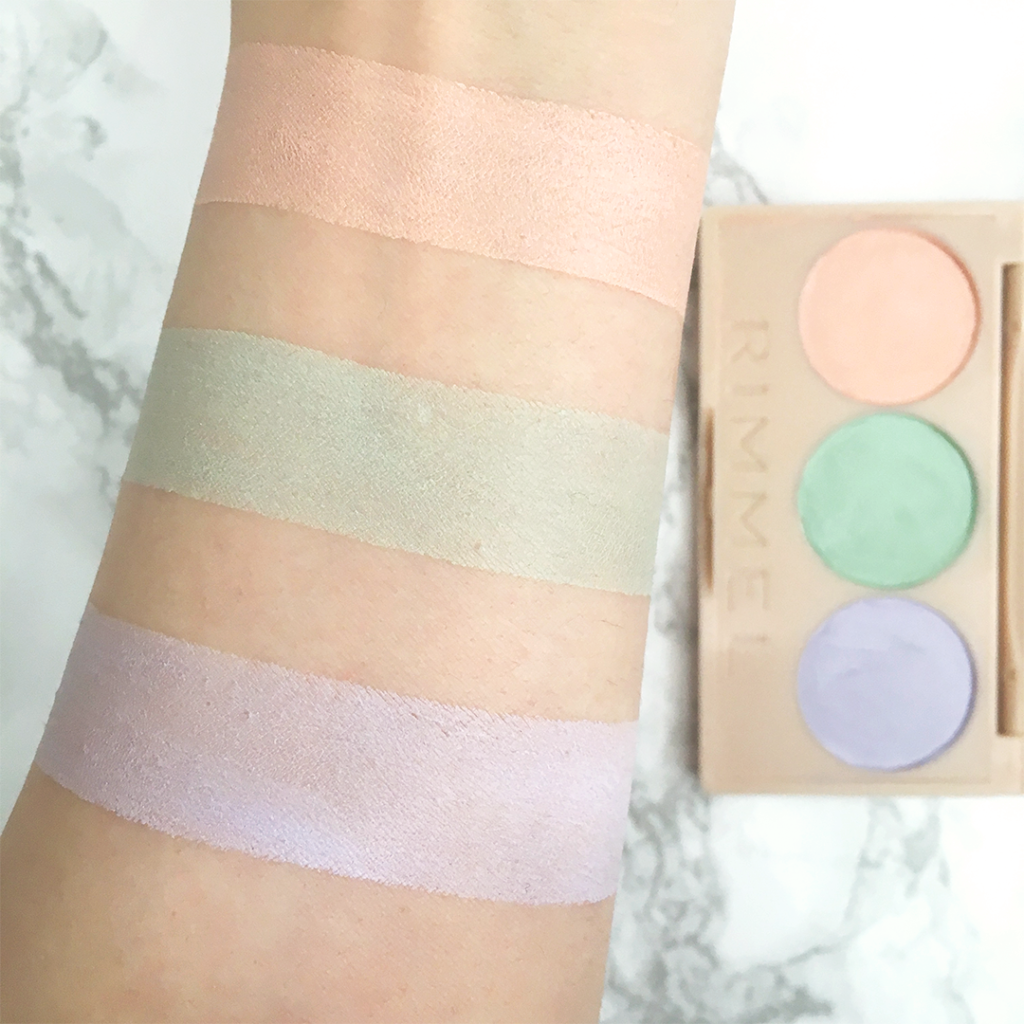 Swatches of the #Insta Conceal and Correct Palette.
I'm a big fan on this collection, I think the products work wonderfully and really can be used in a multitude of ways. My absolute favourites are the Fix and Go setting spray, the Matte Powder and the Contour sticks, but I really enjoy them all and feel like the whole collection is really strong and thought out. The prices for each of these products varies from around £5 to £8 so they are really affordable and the quality is constantly high.
*These products were pr gifted for testing and review purposes my opinions are my own.
They have also since brought out an addition to the Insta line, the #Insta Flawless skin tint which unfortunately I haven't tried yet. Rimmel's foundations/tinted moisturisers always impress me and I think it makes a nice addition to the complexion focused line
Have you tired anything from the #Insta collection, Which was your favourite?