My Giant Haul from the 2017 Christmas Collection
This was my first time ever going to a Lush Store on Boxing Day and although it involved an enormous amount of queuing, I had a blast and picked up an abundance of Lush goodies that I've been excited about since I saw their release earlier this year.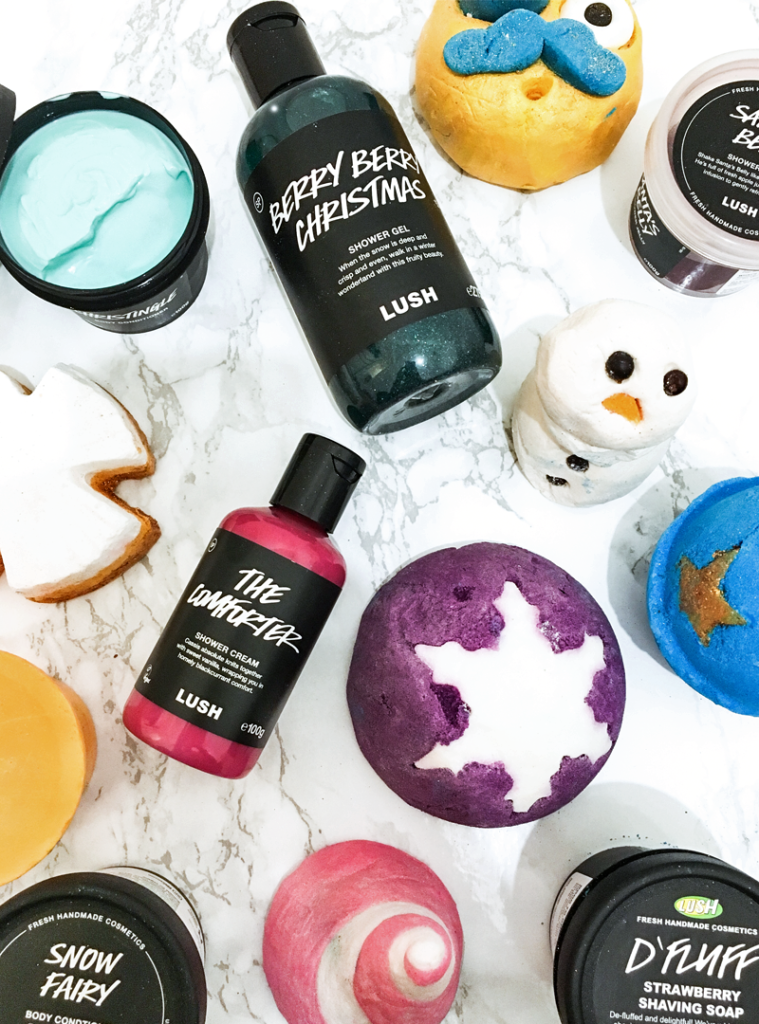 I'm very lucky to have a Lush store in my town, so I didn't need to travel far, but the queues were very long and very slow moving around the tightly packed store. As we snaked our way around things kept jumping into my basket. However, I set myself a budget before going in and I'm pleased to say I stayed under it (just!). Most importantly I have a huge mountain of wonderful bath goodies to use and enjoy over the next few months. As everything from the Christmas and Halloween collection was on offer for 50% off, including the gift sets, I really came away with tons of goodies.
Santa's Belly Shower Jelly
This is a really fun product that is moulded to look like Santa's belt and stomach. It has a really lovely fresh sweet apple scent that reminds me of fruit juice. As it's a jelly it's very wobbly in your hands but firm enough to use. I haven't used a Lush shower jelly before but I love the concept.
Christingle Body Conditioner
If you like mint, this one is for you. It's such a refreshing aroma and a beautiful pale blue colour. What I love about the body conditioners is that you can apply them to your skin in the shower and rinse off, then there is no need to apply body lotion after. Or if you would rather, I find you can still use them as a regular body lotion, either way this one is invigorating and has a really refreshing kick to it that leaves your skin tingling.
Snow Fairy Body Conditioner
The Snow Fairy scent is so iconic I couldn't leave without getting at least one snow fairy related product. The delicious cotton candy scent is sweet and delightful. I'm sure snow fairy will be returning next year but I need to make sure I make this little pot last, as I can see myself becoming addicted to it.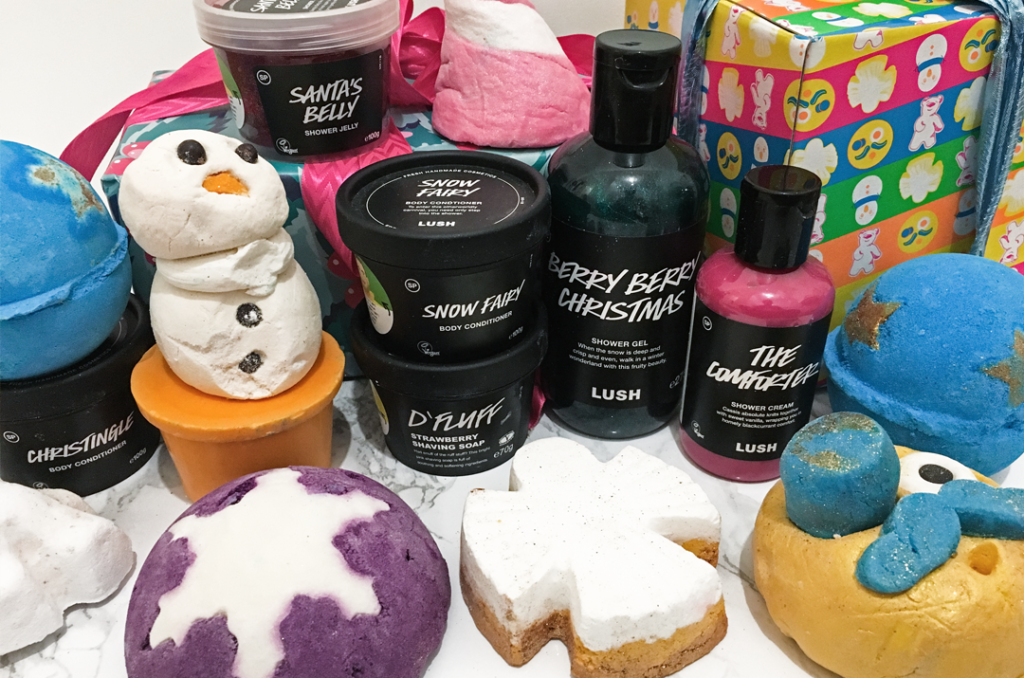 D'Fluff Strawberry Shaving Soap
I don't think this one is a festive exclusive as I'm sure I've seen it at other times of the year in store, but as it's been on my list for so long and was included in the promotion into my basket it went. This is a really concentrated foam soap that you can mould with your fingers. It has a delicious strawberry and rose scent and is supposed to making shaving a doddle. I can't wait to try it and see how it goes.
Berry Berry Christmas Shower Gel
The Berry Berry Shower gel has a fruity blueberry aroma and is packed with pretty silver glitter. This was one of the one products I actually planned to pick up as I was just so taken with its divine berry scent and beautiful teal colour. The shower gels from Lush create wonderful lathers and are really enjoyable to use in the shower as you only need a little bit. As I get through shower gel quickly I'm always happy to stock up and I hope this bottle will last me awhile because it's so pretty I don't want to use it up.
Candy Mountain Bubble Bar
How can you go to Lush and not leave with a Candy Mountain? This vanilla scented bubble bar is girly and pretty and will fill the bathroom with sweet candy aroma's. This is a smaller bubble bar then some of the others so I think it would only be for one use. I love the soft pink swirl and subtle glitters that make this candy mountain a real bath time treat.
Buck's Fizz Naked Body Conditioner
I wanted to try at least one Naked Body Conditioner to see how they compare to the tub version. I love the idea of a packaging free product so I'm hoping this is a real game changer for me. Just like the drink this has a delicious citrus orange scent and can be applied to wet skin as an alternative to body lotion. Leave it to dry and use it again!

Deck the Halls Gift Set:
The Comforter Shower Cream 100g
The Comforter is a popular scent from Lush that I had never tired so I was glad to see it contained within this set. It's a really fruity blackcurrant and vanilla scent that I think will be enjoyable to many. I love Lush Shower Creams and it never hurts to have a mini size for travel.
Shoot for the Stars Bath Bomb
Shoot for the Stars is my absolute favourite scent from Lush, it smells identical to the Scrubee Body Butter. An intoxicatingly delicious infusion of Cocoa Butter, Orange Oil and Coconut Cream, I just can't get enough. I love this one so much I picked up a spare. The beautiful gold stars release swirls of gold shimmer amongst the blue bath water. A really bathing treat.
Plum Snow Bubble Bar
The Plum Snow Bubble Bar is huge! I think you could easily cut this up and get 2 or 3 baths out of this one. Like all Bubble Bars you can crumble this under running water to get a bath full of bubbles. As you would imagine this has a delicious plum scent and will tint your water a beautiful purple hue.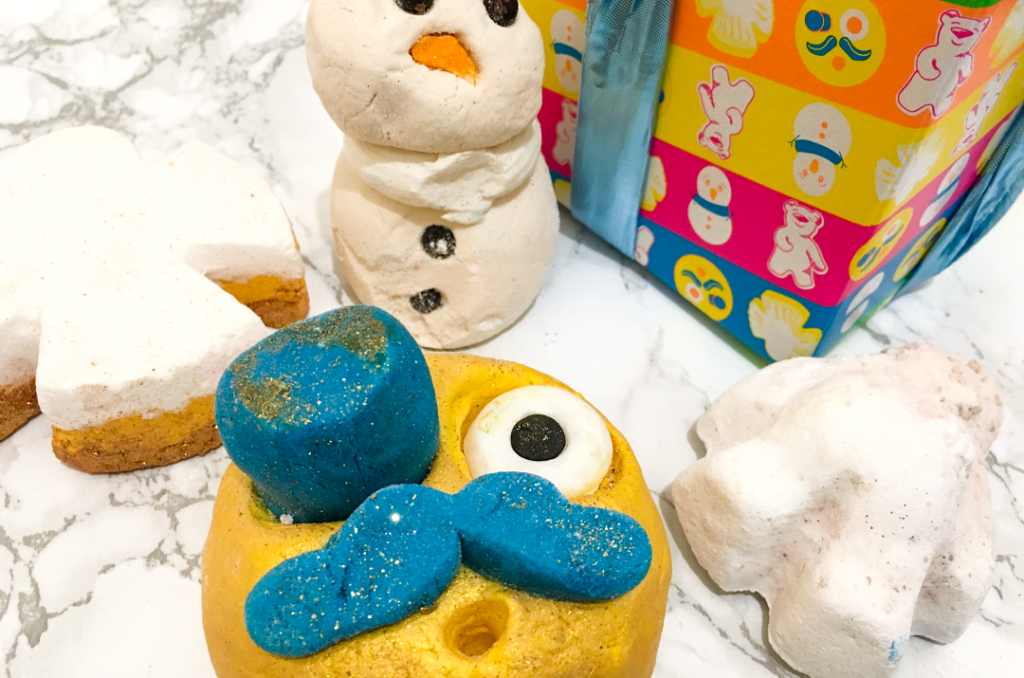 The Snowman Gift Set:
The Snowman Bubbleroon
Such an adorable Bubbleroon, this little snowman may have lost his carrot nose but hes still ready to bath. Bubbleroons can be used in the same way as a bubble bar to create a bath full of bubbles. The Snowman has a lovely mild citrus scent and is packed with shea butter to nourish the skin.
Man in the Moon Bubble Bar
I adore the design of this bubble bar, it so quirky and fun. The Man in the Moon bubble bar could also quite easily be cut into two to go further as it is very large in size. The scent reminds me of candied limes and is just delightful I can't wait to make fluffy bubbles with this one!
Butter Bear Bath Bomb
Unfortunately my little butter bear was smashed to bits which is a shame because it's one of my favourite scents. I'm hoping I can still get a bath out of this one as it's a bath bomb I've used before and loved.  Rich with Cocoa Butter this little bear leaves your skin feeling wonderful soft.
Snow Angel Bath Melt
The bath melts work in a very similar way to the bath bombs, but are even more packed with nourishing oils that slowly melt into the hot water leaving swirls of soft shimmer and delightful soothing scents. I love the design of this one and can't wait to watch this slowly melt into my bath.
That was my not so small Lush Haul! I'm such a big Lush fan that I may have gone a bit overboard but I'm delighted with my haul and can't wait to smell like a lush goddess. I don't think I will be needing to make a trip to Lush for awhile, but we will see how that goes! Did you manage to grab anything from the sale?