My haul from this year's Lush Halloween collection
This year Lush came out with some truly irresistible looking products in the run up to Halloween these include the very beautiful sparkly pumpkin bubble bar, the super adorable Monsters' ball and the infamous Lord of Misrule made its return. It was just too good to pass up on.
I spent a good while deciding between everything, it all looked so good, but I managed to limit myself to three items. I was tempted to pick up some of the Christmas collection as that released at the same time but that is for another day.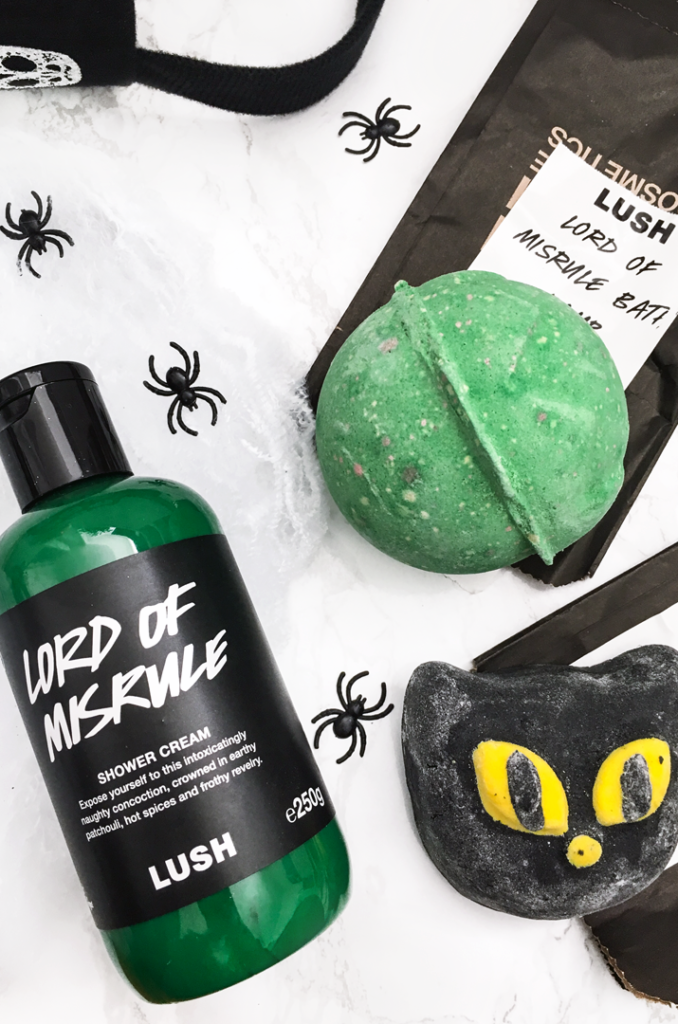 There is something so appealing about baths when it gets cooler and dark by the time I get home, a nice hot evening bath is such a nice way to stay cosy and warm and wind down. I don't use bath bombs very often as I suffer with eczema and I find they irritate my skin but I can get away with them every now and again. So on that note I brought a bubble bar, a bath bomb and a shower cream to treat myself to some Halloween goodness.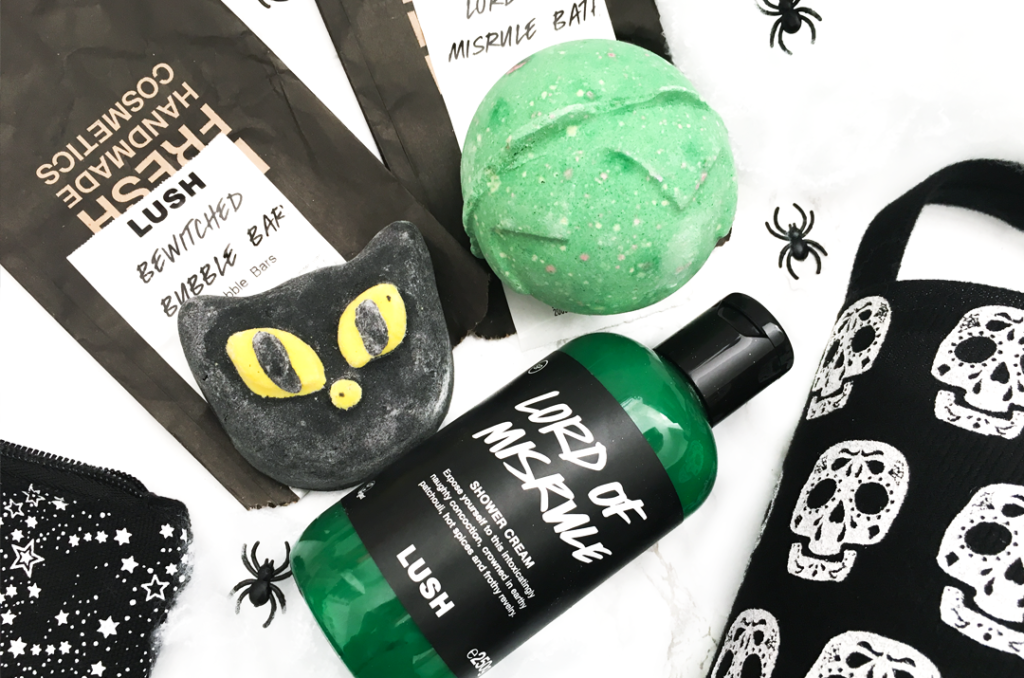 Bewitched black cat bubble bar | £4.25
The first item to go in my basket was the super adorable 'bewitched' black cat bubble bar. This immediately caught my eye as a black cat is such a symbol Halloween. The main scents notes are Bergamot Oil & Olibanum Oil. It has a spicy almost smoky scent to it that is really intoxicating. Broken up under running water this will turn your water water with some sparkle and create tons of bubbles. What I love about bubble bars is that you get the colour and conditioning of the water that you get with a bath bomb but you also get super fluffy bubbles! It's a win-win. I normally prefer sweet scents but I found this to be uplifting and a beautiful unisex scent for this time of year. I found my skin felt so soft and hydrated afterwards as it is packed with oils so it felt really conditioning for the skin.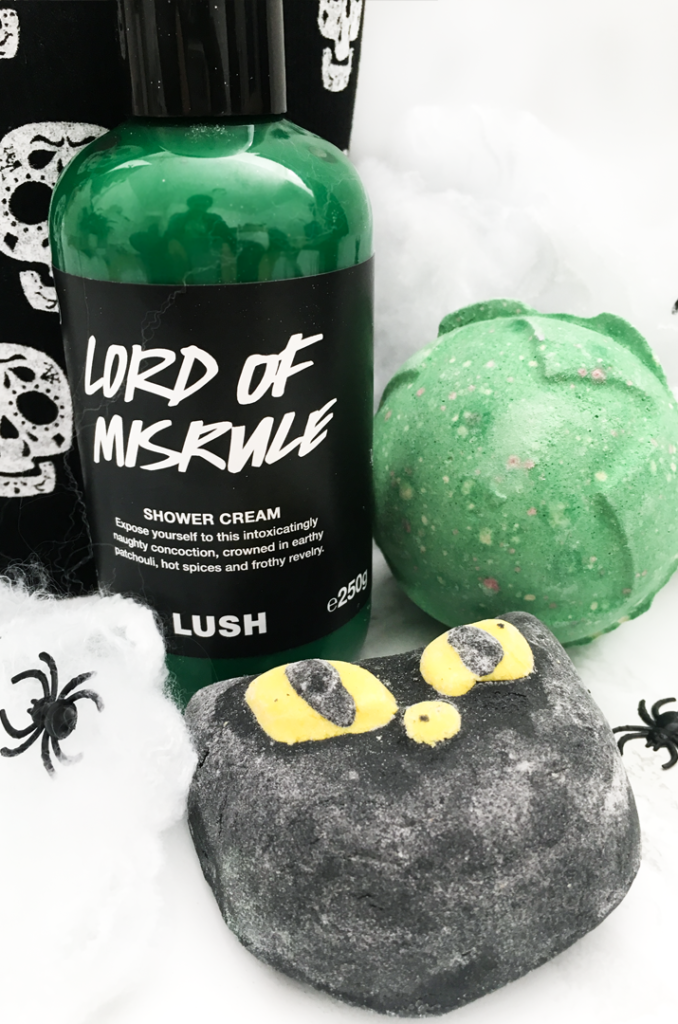 Lord of Misrule Shower Cream | £10.95
Next of the list was the Lord of Misrule Shower Cream, I decide to go for the smaller 250g size as I hadn't tried it before.  This product had a lot of hype around it and certainly grabbed my attention because of that, it's been around before and was brought back for this year's Halloween Collection. The main scent is a combination of Black Pepper Oil, Patchouli Oil, Vanilla Absolute and Organic Wheatgerm Oil. It's a very complex scent and unlike anything I've ever smelt before. The strong green shade is just delightful and makes showering a bit more fun as the colour doesn't dilute until you rinse off. I find this doesn't create any lather, whether I apply it straight to the skin or use a shower puff it doesn't want to foam, but it does smooth over the skin and feels really nourishing while I use it. The scent is again is a bit spicy but very intoxicating and does really fill my bathroom with the fragrance when I use it. It's my favourite scent out of the three but still not something I usually go for, however I have been gaining compliments that I smell good so maybe it should be!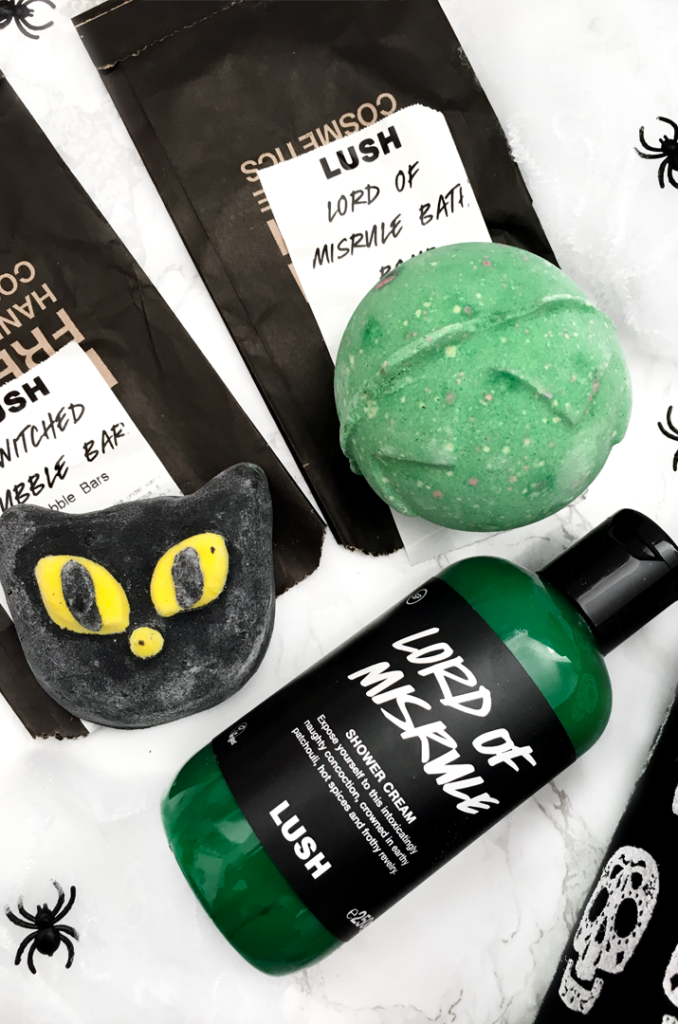 Lord of Misrule Bath bomb | £3.95
Since I was picking up the Shower cream how could I pass up the Lord of Misrule bath bomb! The outer green fizzes away to reveal a beautiful pink centre complete with some popping candy to create a satisfying crackling fizz. The main scent notes are Patchouli Oil, Black Pepper Oil and Vanilla Absolute so it is a very similar scent to its sister product the shower cream. Lush's bath bombs do not disappoint in creating a fun and immersive experience and I think this is one of the most beautiful colour combinations I seen. I can see why there is so much demand to have it available all year round.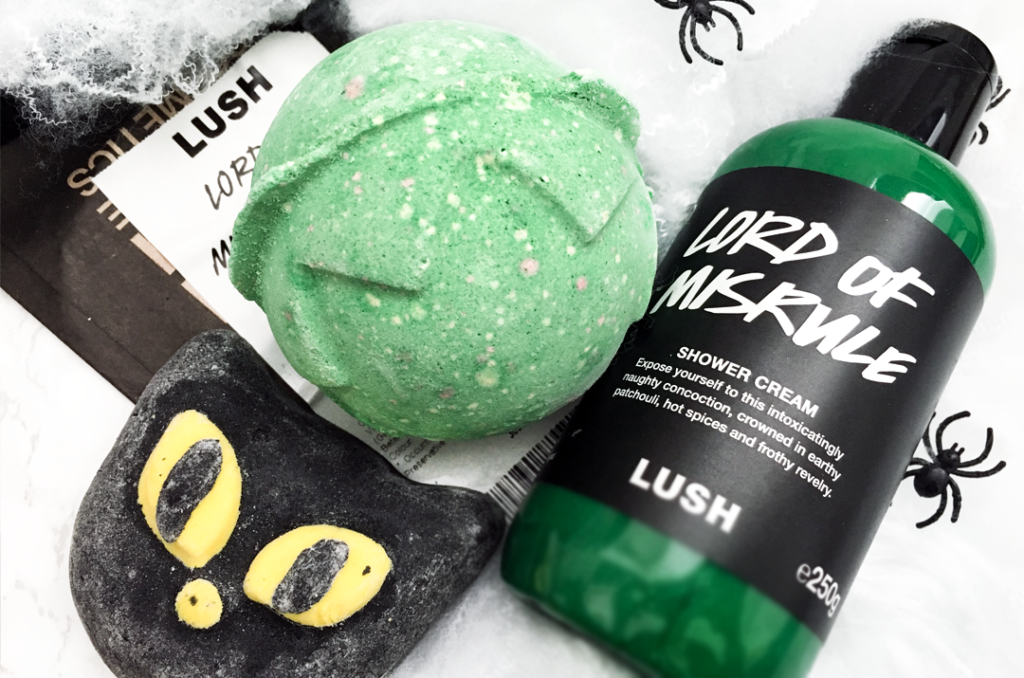 It's always nice to treat yourself once in a while and I find holidays are such a great time to do it and get in the spirit of Halloween. I am so pleased I stopped by Lush to get myself some lovely bath goodies and I think in a few weeks' time I will be popping in to have a look at the Christmas collection. Did you pick anything up from the Lush Halloween Collection?