Beauty Products I've used up
My empties basket has gotten so full I was able to select a few products for a new edition of empties. This time round I wanted to share with you my thoughts on a few Holy Grail products for me and some I haven't completely made my mind up about and want to try again.
I love the satisfying feeling of recycling a whole bunch of products I've used up or even better starting on a new one of a product I can't live without out. If you have missed my empties edition 1 you can read more here.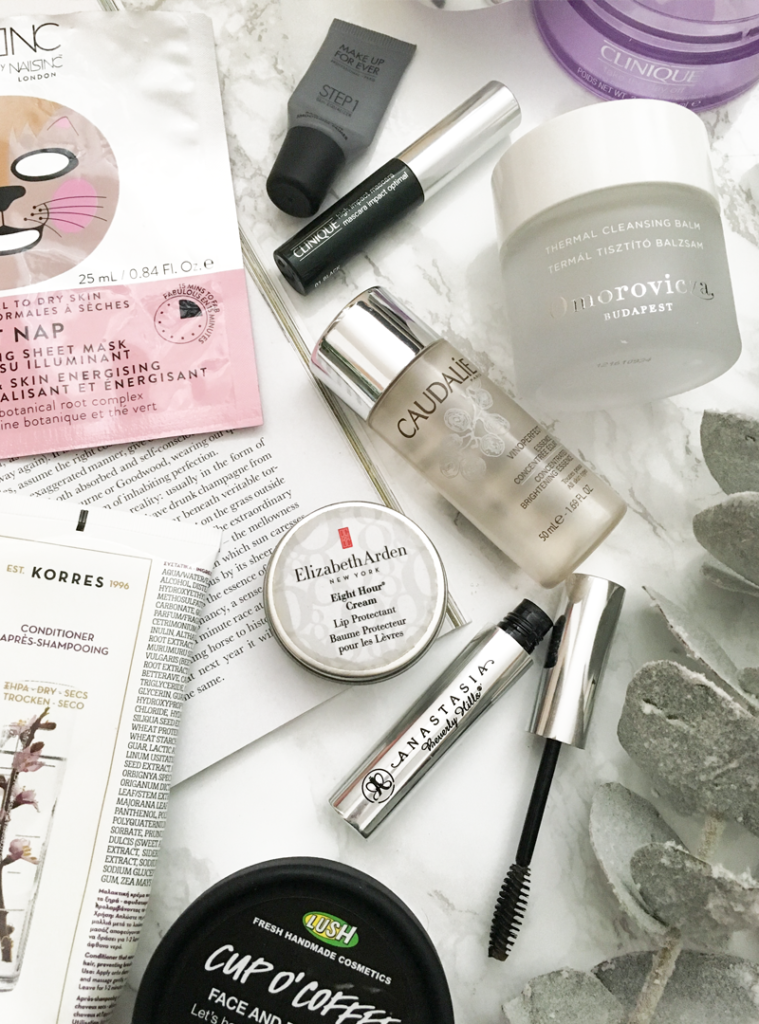 Clinique Take off the day Cleansing Balm 125ml | £23
The Take off the day cleansing balm made a feature in my last empties as well. As I use this almost every day I get through it quite quickly (around 3 months) but it's such a holy grail product for me I always have a backlog. It's a gentle balm that melts into the skin and removes all traces of makeup quickly and easily. It doesn't burn my eyes or irritate my skin. This is my 'can't live without' makeup remover and If you are on the hunt for a cleansing balm  makeup remover this is the best of the best.
Verdict: Have repurchased
Lush Cup O' Coffee Face Mask 150g | £7.35
The Cup O' Coffee face mask is a nice affordable option skincare treat. Someone once described the scent as church incense and now that's all I can think of when I smell it. The main ingredients are coffee, vanilla, roasted cocoa extract and vetivert oil. It's a very thick texture with noticeable exfoliating pieces of coffee grounds.
It can be quite rough on the skin so I avoided applying it in circle motions to further scrub my sensitive skin, but just by applying it gently with a mask brush and removing it with a face cloth I still benefited from the exfoliation. This mask made my pores look really clear and my skin feel brighter but not stripped and tight. I think this is a great option to use once a fortnight to gain the benefits of the physical exfoliation but not a mask I would use to frequently otherwise I could see my skin becoming irritated.
Verdict: Would repurchased
Caudalie Vinoperfect Essence 50ml | 150ml £30
The Vinoperfect Essence contains glycolic acid to brighten the skin, applied after cleansing and before your serum and moisturiser, the concentrated essence reduces dark spots and hydrates the skin. This is a very similar product to the Pixi Glow Tonic which has been a continuous product in my skincare routine for quite some time. I enjoyed using this product and although it was only a mini version I could see it producing similar results to the Glow Tonic. As to whether it will replace the Glow Tonic in my skincare routine it's a bit hard to say, I'm tempted to try a full size to really give it a proper go. I'm a big fan of Caudalie products and this one didn't disappoint.
Verdict: May repurchased
Anastasia Beverly Hills Clear Brow Gel 8g | £23
The ABH Brow Gel certainly has a bit of a cult following and after using it up I can see why. The wand is much larger than most brow gels but I didn't have any trouble with getting the product on my skin. This clear gel really locks your brows in place without them looking stiff. I do think this is quite an expensive product for what it is which is why I have delayed repurchasing it. If you are struggling to keep your brows staying put this is no denying that this is a great product but I feel like there are so many similar products on the market now that preform the same for a lower price point. ABH is known for her brow products and this really does live up to that standard.
Verdict: May repurchased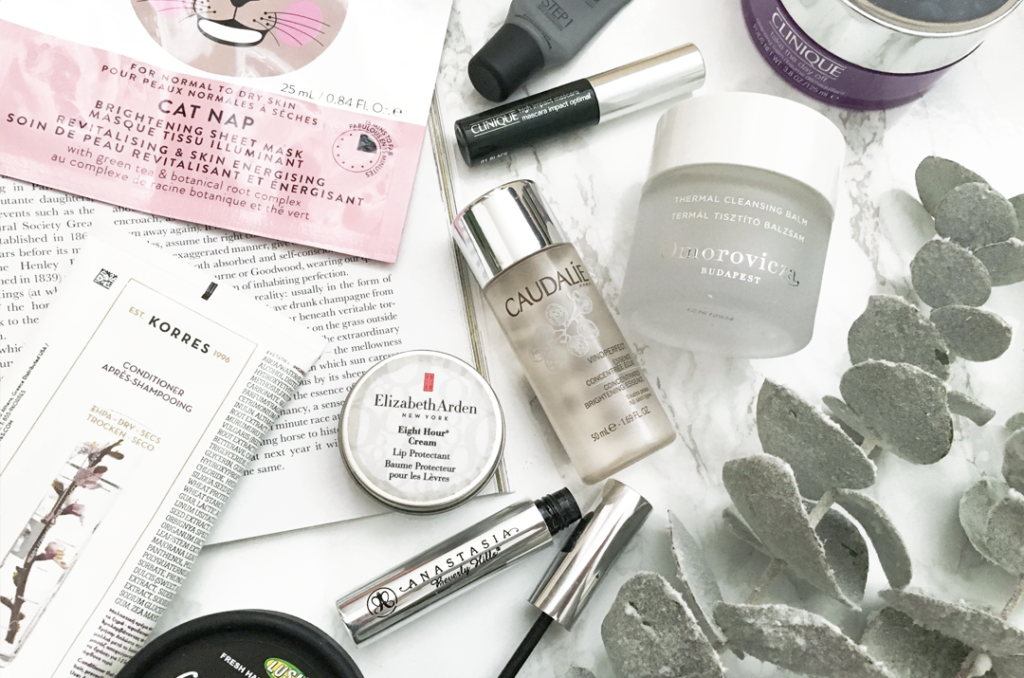 Korres Almond and Linseed Conditioner 200ml | £10
The Korres Almond and Linseed Conditioner is the first product I've tried from Korres, I was dangerously low on conditioner so I grabbed this while in Waitrose and I must say I'm very impressed. This has a lovely almond scent to it but isn't too sweet. This conditioner is quite thick but not difficult to squeeze out the tube. It clings to the hair and feels really nourishing but washes out easily as well. I found my hair looks sleeker, healthier and smoother. This conditioner contains 92% natural ingredients and is formulated without silicone and parabens etc. I've become a big fan of this conditioner really quickly, my hair looked continuously better with use and I love how its more on the natural side. It's more affordable then brands like Kerastase and I think it performs just as well. I'm very keen to try more from the line as I'm really impressed.
Verdict: Will repurchase
Clinique High Impact Mascara 3.5ml | 10g £18
The Clinique High Impact Mascara will always have a special place in my heart as it was one of the first mascaras I ever used, and it's still one of my favourites. I have been through so many tubes over the years that I'm always happy to get more samples of it. With one coat it offers tones of volume and separation with plenty of lengthening as well. It's really an all-rounder and doesn't smudge or flake throughout the day. It has a fairly traditional straight fibre bristled wand which I personally prefer over silicone wands. This mascara never disappoints, it's one I plan to continue to use for years.
Verdict: Would repurchase
Omorovicza Thermal Cleansing Balm 50ml | £48
The Omorovicza Cleansing Balm is my Star product of the year and has rocketed its way to the top as my favourite cleanser. It's an ash grey colour with tiny particles speckled though out. This is a pricey cleansing balm but worth every penny, I get so many compliments on my skin when I use this. It leaves my skin looking radiant and clear. I have dry, sensitive and blemish prone skin and this ticks all the boxes for me. I noticed the benefits straight away and it continued to make my skin look better and better through continual use. It's a luxurious product that I'm always excited to use.  I scrapped every last bit from this jar before putting it in my empties box as I just didn't want it to end. If you can try this cleansing balm, I can't recommend it enough it's an absolute game changer and I can't live without it now.
Verdit: Will repurchase
FaceINC Cat Nap Sheet Mask 25ml |£5
The FaceINC Cat Nap Sheet Mask is one of a few in a new skincare line by nail brand NailsINC. This sheet mask does have a cat printed on it which I must admit made me laugh no stop when I caught glimpses of myself. It's hard to really judge this mask as it is just one use. In general I'm not the biggest fan of sheet masks, I don't love how wet they are on the face and prefer a mask you apply straight onto the skin. However I keep trying them as I think they have had a real boom in the last few years and I'm still hoping I will find a few that change the game for me. My skin felt hydrated after using but I didn't notice much of a brightening effect. Like all sheet masks they stay very wet on the skin for the duration and it can be tricky to do anything else but sit still while using. It's a fun pamper product and I would be intrigued to try it again to see if my opinion changes, but It's not something I see myself buying frequently.
Verdict: May repurchase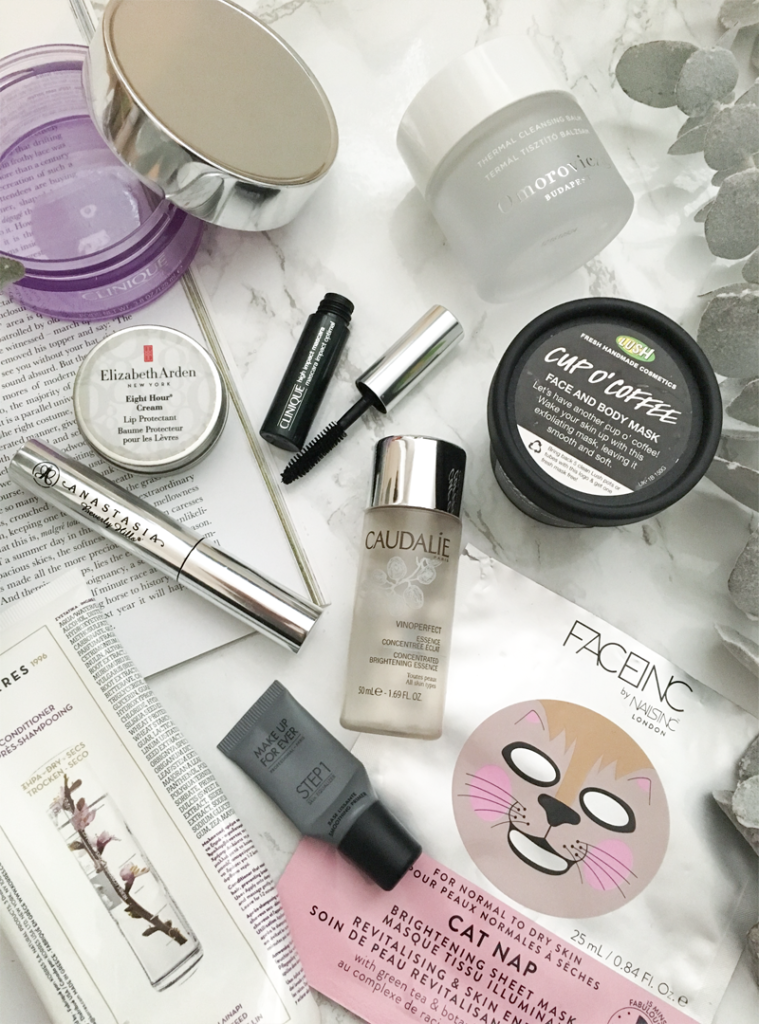 Elizabeth Arden Eight Hour Cream 14.6ml | Part of set – Price varies
I have tubes and tins of the Elizabeth Arden Eight Hour cream stashed all over my house, Its my desert island product and one I couldn't live without. I have permanently dry lips and this is the only thing that really soothes and hydrates them. This is a cult product that comes in many different forms and something I have being using and will continue to use for years to come. It has a botanical almost medicinal smell that I know can be a sticking point for some people so give it a sniff before buying.
Verdict: Have repurchase
Make Up For Ever Step 1 Smoothing Primer 5ml | 30ml £25.50
The Make Up For Ever Primer is a silicone primer that fills and blurs pores for a flawless base. Although this is only a little sample I was really impressed with this primer and favoured it over the Benefit Porefessional and the Smashbox Pore Minimising primer both of which I own the full size of. It has a very smooth texture that glides over the skin and looks noticeably smoother upon application. My foundation lasts  longer and I think this is one of the best pore minimising primers out there. It's not greasy or heavy and great for my T-zone where my pores are more enlarged. Although I have dry skin I don't find this to make it look flaky or exaggerate any texture. It's a must for close ups and an all-around perfect silicone primer.
Verdict: Would repurchase
I hope you enjoyed my empties! I'm sure I will be posting the third edition soon as I've barely made a dent in my pile of used up products. What have you used up recently and repurchased?