My favourite face oil gets a name change, but is it as good?
The Overnight Detox oil is one of those products I just couldn't live without. When I thought it had been discontinued I was heartbroken, but all is not lost, Polyphenol has been updated to Vine[activ] but does it preform the same?
The polyphenol oil has been a firm favourite of my for quite a while, in fact I love it so much I've repurchased it 6 times on the trot. I know that sounds like an exaggeration but Caudalie has a nifty points system that shows when and how many of a product you have brought, even I was surprised I had repurchased it so many times. I think with that kind of figure I could have put it in my hall of fame.
It leaves my skin softer and bouncier, more radiant and less damaged, in the morning it's like waking up with new skin. Gentle even on my sensitive skin it's a product I love and trust.

So I will set the scene of the discovery that my beloved facial oil was no more
It was a grey and cold Wednesday evening (the details I can't remember, so I'm making it up) I was low on my holy grail Polyphenol oil so decided to pull up Feelunique on my phone and add it to my basket before I forgot. Hmm… it's out of stock. That's annoying but no problem, I will see where else sells it… nothing… nothing, anywhere! The sky grew darker (it probably didn't) and the fear that something wasn't right washed over me.
They couldn't, they couldn't discontinue my Polyphenol could they?
They had…
But all was not lost, a new kid on the block called Vine[activ] has just shown up and was also boasting to be an overnight detox oil as well. The sun was shining again (expect it was the same evening and I have no control over the weather so this is all nonsense) so into my basket it went and after a bit of investigating here is what I've learned.
The packaging style is virtually identical, expect for the colour of the glass and dropper.
Both are 1 FL.OZ or 30ml and the text on the back of bottle is identical word for word. I found the scent and colour of the oil to be consistent as well. The vine active just looks lighter because of the glass colour.
Comparing the ingredients on the back of the box the only change I noticed was the order of the last four ingredients, where they appear as Linalool, Geraniol, Limonene and Farnesol in the Polyphenol, the Vine[activ] shows the order of Limonene, Geraniol, Linalool, and finally Farnesol.
Which leads me to believe nothing new has been added and nothing has been removed but the change in order means a slight formula tweak resulting in more of Limonene being added and less of the Linalool as indicated by the order list.
As these are the bottom ingredients I'm sure the difference is negligible and I personally am pleased to say the Vine[activ] oil is working wonders just as the Polyphenol did.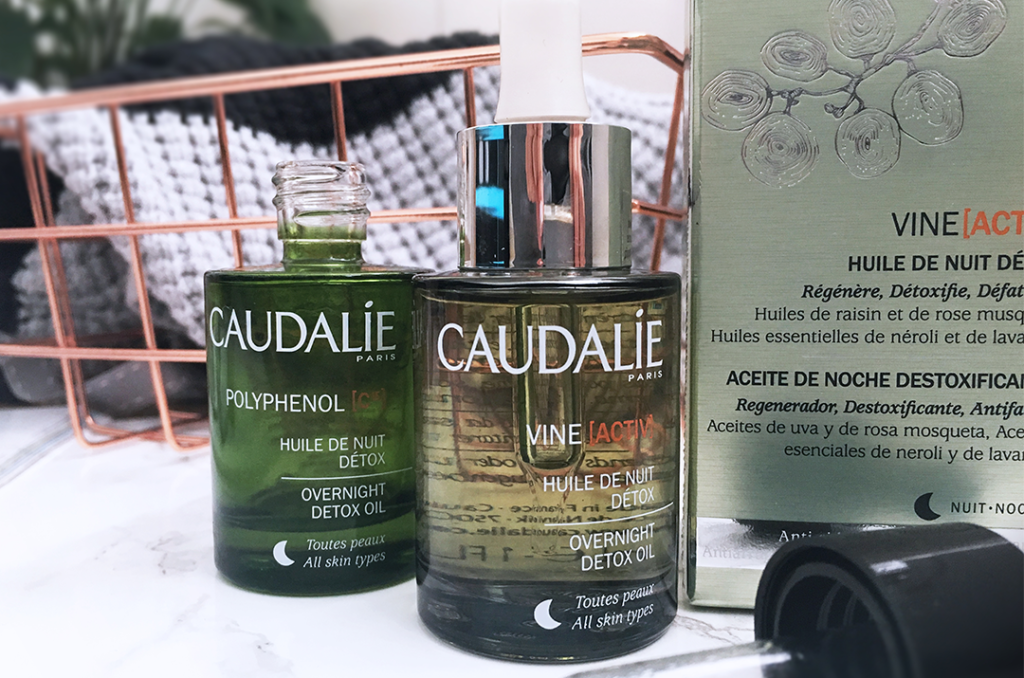 I would recommend no more than six drops otherwise your face can feel a bit greasy and despite having dry skin I find this hydrating enough and don't need to add a moisturiser after.
This is one of my skincare essentials and for the reasonable price of £30 a bottle (which usually lasts me at least six months of nightly use) I think it's a real beauty steal.
Will you be trying the Vine[activ] overnight oil?